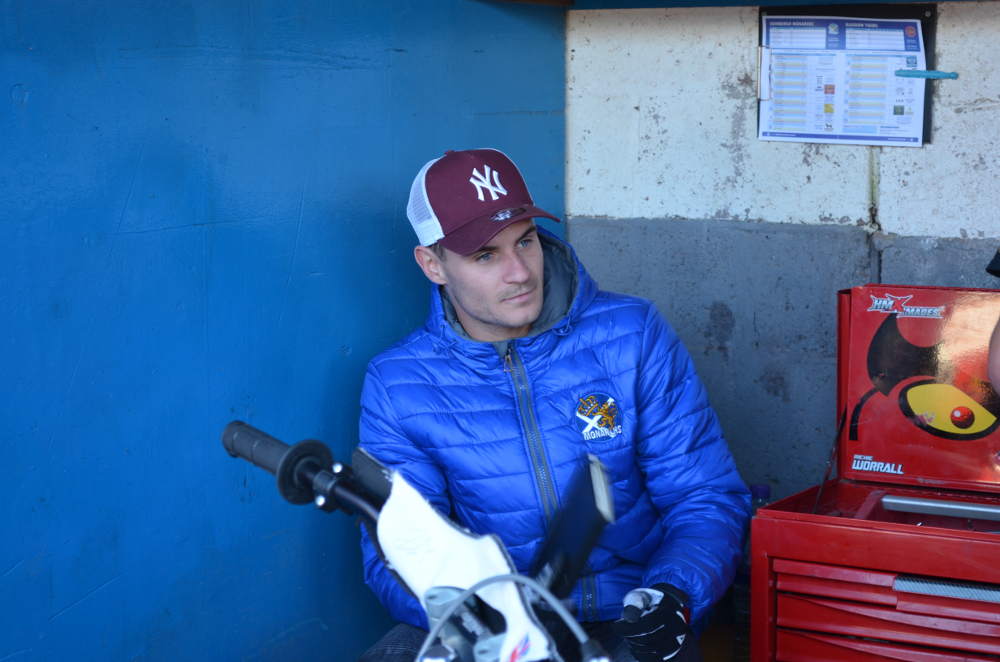 Nigel Duncan reports from Armadale
SGB Championship: Edinburgh Monarchs 56, Glasgow Tigers 33
Edinburgh: Ricky Wells 13, Victor Palovaara 6, Josh Pickering 5, Richie Worrall 12, Erik Riss 9, William Lawson 2, Joel Andersson 9
Glasgow: Ben Barker (guest) 14, Nathan Greaves 0, Chris Harris 3, Paul Starke 9, Claus Vissing 2, James Sarjeant 5, Jack Thomas 0
Red-hot Richie Worrall came back to haunt his former club Glasgow Tigers.
The St Helens-based rider, recently cut by Tigers, powered to 12 points for Edinburgh Monarchs who mauled the Glasgow combine 56-33 as both bid for a play-off place.
He lost his unbeaten record since joining Monarchs when he made a mistake at the second bend early in the final heat and was excluded after winning his first four races.
But Edinburgh were worthy winners and Ricky Wells started the rout, winning the opening heat from Ben Barker, standing in for Tigers' No 1 Craig Cook who is on Grand Prix duty abroad.
Monarchs followed-up with a win by Joel Andersson in the second race as Monarchs took an early 8-4 lead.
Richie Worrall, recently cut by Tigers, recorded a comfortable win in Heat Three and his partner, Josh Pickering, missed the gate but clawed his way back into the race to take a second for a 5-1. It was Pickering's 400th point for Monarchs.
The home side then led 13-5 and ex-Monarchs and Berwick racer Claus Vissing crossed into the centre green ahead of the next heat and was excluded. This is a health and safety violation.
James Sarjeant substituted but Monarchs skipper Eric Riss powered from the gate to take the heat at a canter.
Andersson kept Sarjeant in his slipstream to take second for a another 5-1 taking Monarchs 18-6 clear.
Monarchs domination continued when Worrall won Heat Five with Barker second and the procession continued as Wells and Victor Palovaara stormed out of the gate to take a 5-1 in the next race for a 27-9 scoreline.
Riss was third out of the gate in the next behind Paul Starke and Chris Harris but he powered ahead by the end of the first lap to make it a magnificent seven race wins for Monarchs in front of their biggest crowd of the season.
It soon became eight straight wins as Palovaara was followed home by Anderson with Tigers racer Sarjeant well behind and Nathan Greaves an early faller.
And it got worse for Glasgow as Vissing crashed into the fence on the second bend of the first lap in Heat Nine and was excluded.
Monarchs made the visitors pay with their fifth 5-1 on the night when in-form Worrall won with Josh Pickering second for a 40-14 scoreline.
Paul Starke finally broke Monarchs stranglehold on the match with a win for Glasgow in Heat 10 with his team-mate Harris third. Monarchs' No 1 Wells was second.
Riss won the next race as Monarchs moved 45-20 ahead as Nathan Greaves, making his comeback after injury, failed to complete the heat and was then helped into the track ambulance.
Barker won the next heat for Glasgow, edging Anderson, to the delight of travelling fans, but Monarchs suffered a blow when Riss crashed on the second bend of Heat 13 and was disqualified.
Stand-in Barker won the heat ahead of Wells but dominant Worrall won the next heat and Wells the last race for a convincing win for the home side.