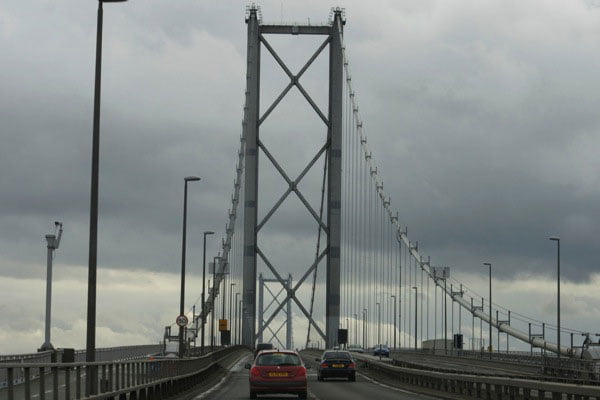 In another example of how fragile modern Scotland has become, The Forth Bridge had to be closed on Wednesday morning when a lorry was blown over in high winds and much of central Scotland was reduced to traffic chaos.
All other bridges on the River Forth were soon clogged. Angry commuters were stuck for hours in long traffic jams.
The 40 tonne lorry was on its way north at two o'clock in the morning when the driver appears to have taken a chance and ignored the warning signs that the bridge was closed to high-sided vehicles because of high winds. He was almost across when a gust of wind caught the lorry broadside and sent it crashing through the central barrier and overturning on the opposite carriageway.
Recovery on @forthroadbridge underway – however there has been (non-structural) damage to the bridge so recovery complex. Will update pic.twitter.com/BcdGp6TpIq

— Humza Yousaf (@HumzaYousaf) 11 January 2017
The driver was not badly hurt but the bridge had to be immediately closed.  It remained so all day, till nine in the evening.  Rescue crews had to wait till the winds died down to get a crane out to the lift the lorry back onto its wheels. Some 40 metres of the central barrier then had to be repaired.
In parliament, MSPs were keen to praise the bridge engineers for getting things back to normal as quickly as they did in such windy, cold and wet conditions. But they were also anxious to know when the new bridge would be ready for service. "In July," said the first minister, Nicola Sturgeon, brushing aside unkind reminders that it was supposed to be open by now.
Again the weather was to blame for that delay. And this week we've had some evidence, at last, that winter in Scotland can still mean icy blasts from the arctic.   We've had snow closing roads from the Highlands to the Borders, winds of 60 miles an hour causing ferry sailing to be cancelled, and temperatures down to minus 8 Celsius.
But there were other reminders that we live in fragile times. Ms Sturgeon faced questions about the pressures on the NHS, with the usual winter stories of hospital patients waiting for hours on trolleys and "bed blocking".
The opposition parties were particularly critical about the delay in creating  "trauma centres" in each of our four main cities. It turns out that they are not to be centres at all, not new buildings, but better ways of co-ordinating existing hospitals and ambulance services so that people with serious life-threatening conditions can be taken direct to one of the four main hospitals.  And, of course, Ms Sturgeon pointed that Scotland's NHS is in much better shape than the NHS in England, performing 10 per cent better in accident and emergency units, for instance.
Brexit always makes us feel a little fragile here in Scotland and so it proved this week when the Prime Minister, Theresa May said we couldn't choose to remain in "bits" of the European Union.  Well, replied Ms Sturgeon, if that means that we are heading towards a "hard Brexit" then Scotland would have to hold another referendum on independence…if not this year, then soon.
As if to underline Scotland's wish to stay part of Europe, MPs voted on Tuesday to oppose replacing the European Convention of Human Rights with a British Bill of Rights. Only the Conservatives supported Mrs May's "repatriation" of rights, saying the other parties were being alarmist in suggesting that anyone would lose any rights.
Local MSP Ben Macpherson had a lot to say about human rights at Holyrood:
The Scottish Labour Party, meanwhile, has been trying to get away from Labour's slight confusion over Europe by launching its manifesto for the local council elections, due in early May.  It wants to put an extra penny on income tax to spend more on education and allow councils to introduce two new taxes, a tourist tax (bringing in an estimated £70m a year) and a tax on vacant land (bringing in £75m).  The party's deputy leader Alex Rowley said; "We've got to have an honest discussion about the type of public services we want, and how we pay for them."
Here in Edinburgh for example the city council has been wrestling with the problem of how to fund the city's various festivals at a time when its budget is being cut.  It's considering cutting the Christmas and Hogmanay contracts by 40 per cent from its current £1.3m – and this at a time when they have just reported record visitor numbers and a boost to the local economy of £240m.
Of course, such choices over public spending have always been with us. In ancient Egypt, to take a ridiculous example, they spent a fortune burying their royal families. In one tomb, in Luxor, ten princesses were buried in some splendour, along with a delicately carved perfume box.  The box, in pieces, was brought back to the National Museum in Edinburgh by the Scottish archaeologist Alexander Henry Rhind in the 1850s.
Some of the pieces, however, were missing and this week we learnt that an art dealer in London has found them.  They've been bought by the Museum for £20,000 and the complete perfume box will go on display in March.
It all goes to show that something that is fragile, even broken, can be put together again, given a little good luck and a lot of time.