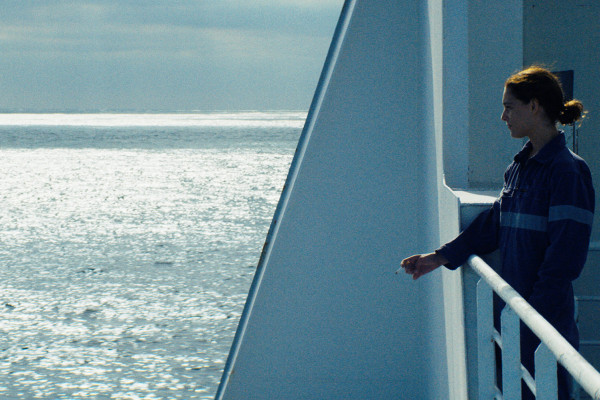 Every single shot of Fidelio, l'odyssée d'Alice seems to be bathed in the inky blue waters that surround it. A film set almost entirely at sea in a grinding mechanical ship that provides the vast majority of the soundscape, you would be surprised at just how gentle and fluid this supposed love story really is.
Alice lives a life incongruous to what her family may have expected. She makes a living working aboard a merchant navy freighter as an engineer to the gigantic vessel. With her lover left at home, Alice embarks on a fluid relationship while aboard with the opposite sex that seems to entice more people than it revolts.
Ariane Labed assumes the role of the titular character, carrying a somewhat heavy, emphatic story on her more than capable shoulders. For the vast majority of the films run time, she is the only woman present; counteracted by a collection of men each pleasant, tough or downright sordid. As a character, Alice takes on each of these characteristics.
What's most refreshing about Borleteau's characters is that there is a significant lack of hierarchy between them. Roles within the ship? Yes, but when it comes to conversations between them there's a friendship or resentment that comes down to their personality traits rather than their positions. This could have easily became a film at which a woman falls to her knees at the sight of an unattainable man of power whom she desires, but it manages to be somewhat smarter. If it's possible, Fidelio is a film about sexual liberation rather than promiscuity; the rights we have to use our body as we so choose and to be nobody's property but our own.
It does almost drag a little, pointing its toes towards a conclusion then retracting them for the last twenty minutes. The interim is strong though, making this slight delay a lot less aggravating.
An absorbing work of gender study set upon the ocean, Fidelio, l'odysseé d'Alice is as seraphic as it is salacious.
★★★☆☆
Fidelio, l'odyssée d'Alice has its UK Premiere at the Edinburgh International Film Festival 2015. Ticketing information can be found here