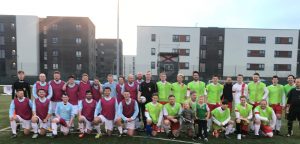 A group of students from Edinburgh college have raised more than £15,000 for several local and national charities.
Working in groups of four, the students – who study at the college's Milton Road and Sighthill Campuses – planned and ran different events to raise funds for charities such as Health in Mind, Cancer Research UK and the Shannon Hughes Foundation. These events included a football match at Ainslie Park back in March, an art exhibition, a carer's day and a salsa evening.
Sarah Macfarlane, Events Management lecturer said: "Organising these events provides the students with fantastic work experience. Each group worked extremely hard and we are really proud that they have raised such an amazing amount of money for good causes."
Health in Mind senior fundraiser Lynne Stanford said: 'We want to say a huge thank you to the students of Edinburgh College who chose to support Health in Mind.
'As a local charity we rely on donations to allow us to continue to promote and support positive mental health and wellbeing in Edinburgh. The money that the Events Management students raised will go towards our work of supporting 3,000 people every year to live the life they want to live.'