The good thing about Tartan Week is that there's lots to do. The bad thing about Tartan Week is that there's lots to do, meaning that somewhere along the line something has to give.
We arrived in Stewart International on Wednesday night on a Norwegian Airlines flight direct from Edinburgh full of pipers, dancers and musicians excited about the opportunities the next few days would present. One piper, Donald Ban who is the instructor for the Sgoil Lionacleit Pipe Band, even gave us a few tunes at 36,000 feet.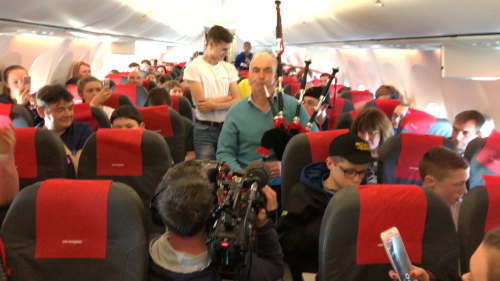 This was the first time that a band from the Western Isles had gone to Tartan Week, and they won a prize for the biggest overseas contingent. When they performed at Ellis Island, they played Maid of Barra, a tune specially written to commemorate their former band member, Eilidh MacLeod, who died last year in the Manchester bombing.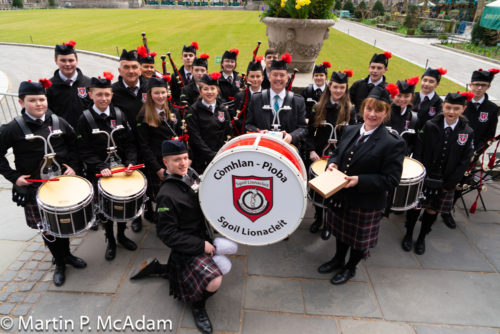 As a spectacle there is nothing quite like a pipe band striding down Sixth Avenue with drummers following, all colourful in their kilts and marching to the beat. Yes, we can listen to pipers on Princes Street or the Royal Mile any day of the week, but there is something quite magical about traditional Scots music of all kinds played to a backdrop of skyscrapers.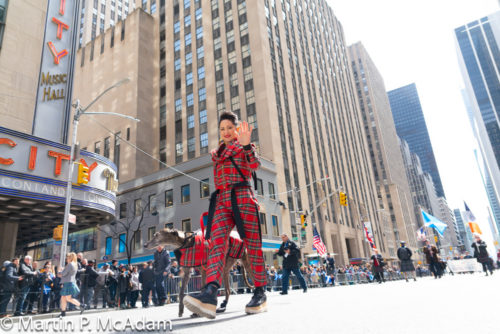 On Saturday there was nothing quite like the Grand Marshal, Scottish singer songwriter KT Tunstall clad in red James Hare tartan silk from head to toe, and rocking the occasion from start to finish. It was inspirational of her to choose King the retired greyhound to accompany her.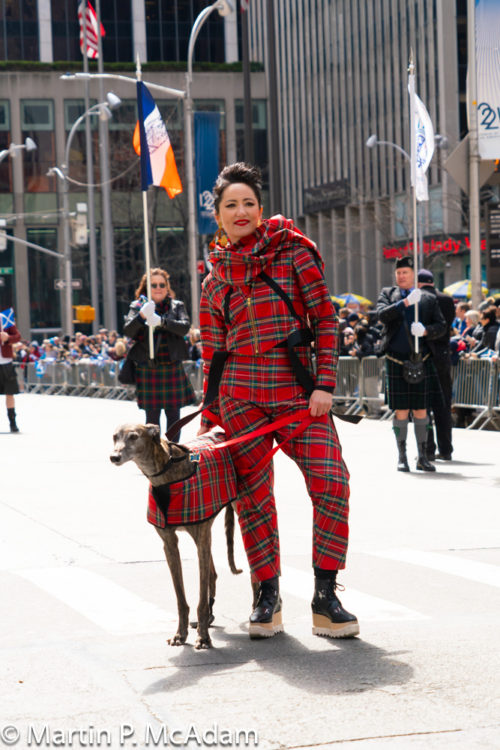 She told me that looking at some old historical Scottish paintings had given her the idea. The decision by the committee to choose her as the first female Grand Marshal was unanimous. She made New York her own for the day, and her enthusiasm was entirely genuine.
Dogs are already a big part of the parade, with dog competitions before the main parade.
Leading up to the day itself there are many chances to meet up with fellow Scots whether they are part of the diaspora or visitors like us. The presence of some high level politicians and public figures makes this more than just an exercise in tartan tat.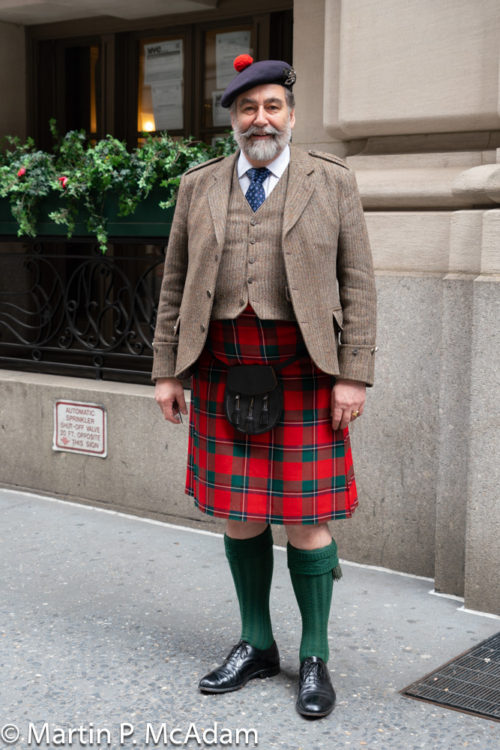 We met the Chair of VisitScotland, Lord Thurso, who was on a trip to the US dealing with the business of bringing Americans to Scotland to see what we have to offer. He told me : "America is our biggest overseas market and the overseas tourists who come to Scotland outspend domestic tourists by a factor of 2 or 3 to one. About 80% of the Americans who come to Scotland live in this Tri-State area. This week is a fabulous opportunity to get a large number of them in one place. "
The Economy Secretary Keith Brown was also in the US talking business with the Americans. He spoke at Bryant Park just off Broadway where the Declaration of Arbroath was read out at an Observance Service. He talked of Andrew Carnegie saying, "After he had become extremely wealthy in the steel production industry he changed course and became a generous philanthropist for education and the arts. You will know his name from Carnegie Hall just a few blocks up the road and the Carnegie Mellon University in Pittsburgh.
"Then there was John Muir who created the Sierra Club and the father of the US National Parks."
Standing with the New York Public Library just behind him, Mr Brown explained that it was another building made possible by Andrews Carnegie. He said : "Scottish -Americans are woven into the fabric of American culture, and all of you here are part of that rich tapestry. It reminds me that every time I have been at this event in New York we seem to attract Scots who are just walking by. It's amazing the draw of the pipes. "
Mr Brown wore a tie that the World Fair Trade Tartan delegation from Edinburgh had given him. . He concluded : "It is a real honour to be here firsthand to witness the Scottish passion and pride on display. It is a strong reminder of the enduring relationship and friendship between our two countries. It is a truly humbling experience to see the close affinity which many people here in the US have with Scotland. Being here today makes me very proud to be Scottish."
This was simply awesome. @Lou_piper playing on Sixth Avenue #NYCTWpic.twitter.com/LpC5puevOB
— Edinburgh Reporter (@EdinReporter) April 9, 2018
The Lord Provost of the City of Edinburgh was not in New York, but his official piper Louise Marshall was there with the World Fair Trade tartan clan. We met The Rt Hon Lord Provost of Glasgow, Eva Bolander, (wearing a fabulous tartan coat which showed off the Lord Provost's chain beautifully) who told us as she passed by : "Its fantastic to be here. I am so enjoying it."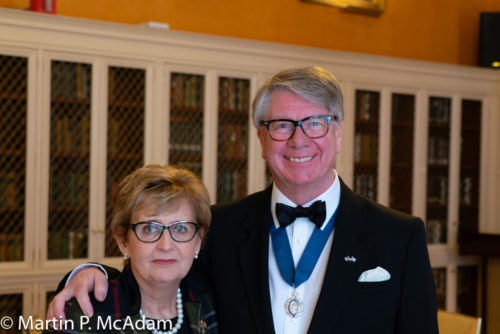 Our own former Lord Provost Eric Milligan was there resplendent in his tartan trews, invited to be guest speaker at the Edinburgh Napier University brunch hosted by its Vice-Chancellor, Professor Andrea Nolan at the Harvard Club New York.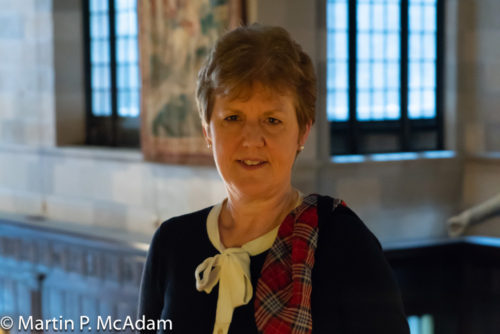 Professor Nolan told me :"It is important for me to be here in New York to connect with the wonderful alumni who live here on the East Coast of the USA. All of them have spent time with us in Edinburgh and they are all hugely enthusiastic about the education they got at Napier.
"We are also launching the New York chapter for alumni, so for Edinburgh Napier that's a first, and a tremendous occasion
"The second reason I am here is to support Scottish Higher Education with the help of The Scottish Government as they celebrate Tartan Week. It is a truly brilliant occasion from the moment you turn the corner into Sixth Avenue to the end of the parade."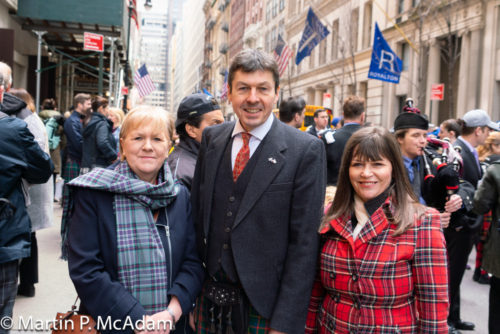 The sights were many and varied, from three people dressed up as Nessie to the fabulous pipe band outfits.
On Friday at the Observance Ceremony on National Tartan Day, The Declaration of Arbroath was read out and its significance explained by a young American whose parents are both Scottish..
April 6th was the day chosen to be the day to salute Scots and Scots-Americans because it is the anniversary of the Treaty of Arbroath, a petition signed in 1320 by Scottish nobles addressed to the Pope asking for his assistance in pressuring England to recognise Scottish independence and to bring about a lasting peace.
He explained : "David Ross in his book On the Trail of Robert the Bruce wrote : "Its not only one of the most outstanding documents in Scottish history, but of world history too. It is the epitome of all that is admirable in patriotism. It speaks of a mans right to freedom and his right to defend it. It speaks of Scotland, that wee country on the edge of the world, and of its people who desire nothing but the chance to live in peace. It is a lengthy document but some of it must be quoted here."
Flower of Scotland was sung in the park during which the whole audience stood and sang along. It wasn't perhaps as rousing as at Murrayfield on a Calcutta Cup day but it was beautiful and quite moving.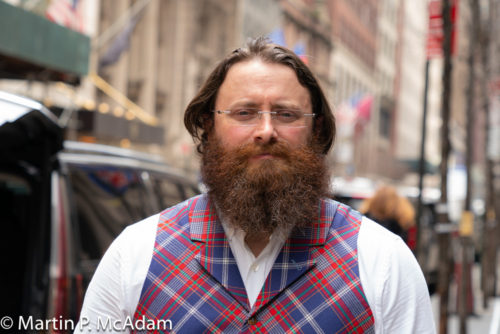 Elsewhere the fact that this was the twentieth anniversary meant that the American organisers had some tricks up their sleeves. President of NYC Tartan Week, Kyle Dawson, rang the opening bell at Nasdaq on Friday morning, National Tartan Day. The Empire State Building was lit up blue and white especially.
Howie Nicholsby was doing a roaring trade in kilts in an Irish bar called Blooms which had turned Scottish for the week. Belhaven provided beer for Happy Hour and the two singletons flown over by the Tartan Week committee were provided with other single people to meet. (There was a preponderance of women however.)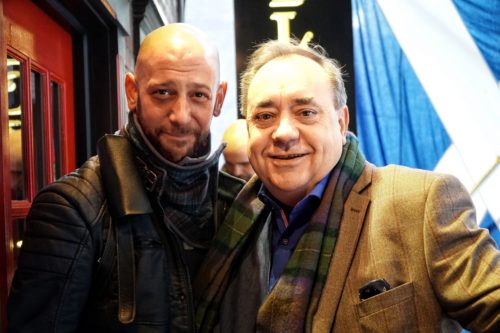 Alex Salmond was sitting on a bar stool in Blooms chatting to anybody and awbody while waiting for his film crew to arrive. He was recording some packages for his RT show both in New York and Washington which you will be able to see next week. He didn't think The Donald would be one of his interviewees, however he was good enough to slot in a brief interview with me, when he revealed that he will interview the former Catalan minister Professor Carla Ponsati, on his touring show in Edinburgh and Dundee at the end of the month.
A selection of young Scottish musicians entertained the audience in Bryant Park, including Hannah Read & Friends, Craig Weir, The Highland Divas, Forest Legion Pipe Band, Canada and Lisa Kowalski.
Craig Weir is a much feted young Scottish musician particularly during Tartan Week. He sang in Bryant Park and was booked to play at Club Cumming too.  The lyrics in one of his own songs are pretty apt: 'Nae man can tether time or tide…..'
No truer word was spoken. Soon it was all over – hopefully we will be back next year!
We flew to New York City Stewart courtesy of  Norwegian Airlines
Norwegian offers the UK's only direct flights to Stewart, New York from Edinburgh Airport with fares from £159 one-way in brand-new Boeing 737 aircraft. Stewart Intl. Airport is a gateway to New York State's key attractions and offers a 90 minute express shuttle service direct to New York City. Book now at www.norwegian.com/uk or dial 0330 8280854 (opt. 1)