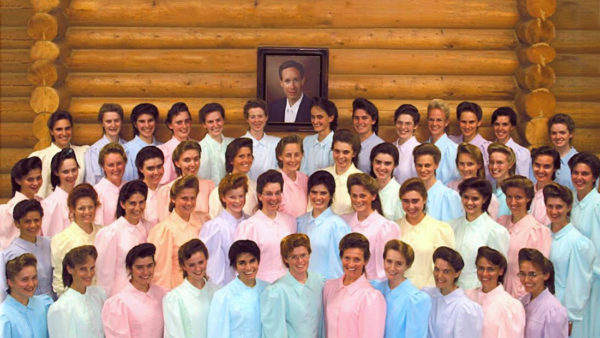 Amy Berg is no stranger to the odious waters that her latest work dabbles in. Having previously dealt with the mistreatment of minors on more than one occasion, she now looks upon the issue of child molestation on a huge and painfully unstoppable scale. Excruciating to watch, Prophet's Prey is perhaps her most observant and strange work to date, dealing with a man whose ominous presence can always be felt even though he's never really there.
As his position as the Prophet of the Fundamentalist Church of Jesus Christ of Latter-Day Saints came closer into his grip, Jeff Warren turned the already dubious tradition of polygamy into a mass brainwashing of thousands of followers; making them obedient to his warped moral stance. But in the isolated FLDS community, Warren can easily get lost when the FBI are desperately trying to get him in their grasp.

Prophet's Prey backs you into a corner; giving you a damning insight into the life of helpless people born into a community with a indoctrinating leader. Usually, Berg likes to provide balance, but with the closed off nature of the religious cult stopping us from knowing fully what goes on, we're left to watch from the sidelines. The footage provided sees us fly past the seldom seen colony like we're watching an Amazonian tribe from the air. This detachment only adds to the mystique.
Warren's voice often echoes through a dark screen like a sickening, soft-spoken lullaby; reciting his teachings with a hypnotic power. His crimes are abhorrent: mass sexual depravity ranging from taking nearly 90 wives to the caustic abuse of possibly hundreds of children. His looming stature and elongated face are transformed through Berg's cinematic technique into a creature a kin to what is seen in horror films; his story told by those closest to him, making him even more of a diabolical villain.
The ability to depict these people as twisted but not make their crimes seem like a fantasy is fast becoming Berg's forte. In West of Memphis, she used the cruel work of the media and the residents of the Arkansas town to make her protagonists seem like the beasts they were therefore perceived as. Similarly, Prophet's Prey uses the damning evidence that put Jeffs away to depict, rather than invent a real monster. This includes a stomach churning sound recording of his molestation of a pre-teenage girl; justifying his actions through the supposed word of God.
A haunting and blatant telling of a false prophet's sickening story, Prophet's Prey secures Amy Berg's position as one of the most valuable and important documentary filmmakers.
★★★★☆
Prophet's Prey plays as part of the Edinburgh International Film Festival 2015. For ticketing information, head to the EIFF website.