Addressing delegates at the SNP Conference in Glasgow today (Tuesday), SNP Leader Nicola Sturgeon will say that optimism and hope are needed more than ever, in the face of "unfolding calamity" at Westminster.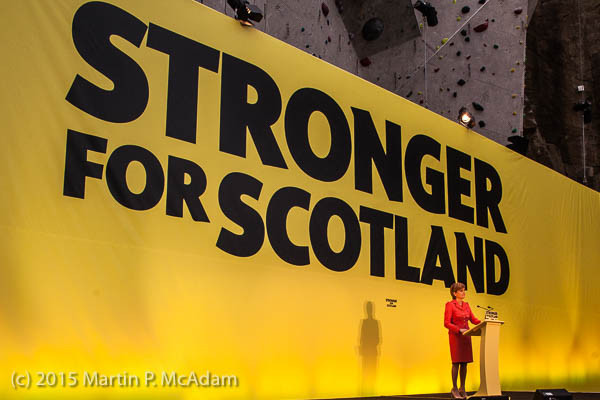 The First Minister is expected to say: "The Westminster Government stumbles from day to day and disaster to disaster. It's hard to watch that unfolding calamity and feel anything other than despair.
"So it is up to us – now more than ever – to offer optimism and hope.
"Just think how much more hope will be possible when we take Scotland's future into Scotland's hands and become an independent country.
"An independent Scotland, just as Scotland is now, will be a beacon for progressive values – equality, opportunity, diversity and fairness. Indeed those values feel more important today than ever before in my lifetime."
The First Minister will also unveil a new Fair Work First approach to business support grants and contracts. Her speech may include this proposal : "In government we're working, day in, day out, step by step, to change lives for the better.
"We've made payment of the real living wage part of our procurement process, we've extended it to adult social care workers and we will soon do the same for early years workers.
"As a result of all of that, Scotland now has the highest proportion of employees paid the living wage of any UK nation.
"But we must do more. Last month, we said business support grants from Scottish Enterprise would have living wage, zero hours contracts and gender pay criteria attached.
"I can announce today that, working with unions, business and the public sector, we will extend that approach.
"We will adopt a new default position. Fair Work First.
"By the end of this parliament, we will extend fair work criteria to as many funding streams and business support grants as we can. And, we will extend the range of Scottish Government and public sector contracts that fair work criteria apply to.
"Fair Work First means investment in skills and training, no exploitative zero hours contracts, action on gender pay, and genuine workforce engagement, including with trade unions. And, of course, payment of the Living Wage.
"We may not yet have the constitutional power to make fair work a legal requirement – but we do have the financial power of government to make it a practical reality.
"And we will make that count."