The Fringe can be many things to many people. While it rightly offers a stage to experimental theatre, edgy comedy and alternative spoken word, more traditional entertainment still has its place, and that place is often a very popular one.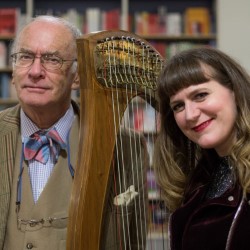 Phamie & the Prof, showing in the equally traditional setting of the Scottish Arts Club in Rutland Square, makes no claims to be subversive. Instead it offers us a most enjoyable and civilised hour of Scottish music, poetry and history in the company of two seasoned performers.
A child of the Lammermuirs, Phamie Gow released her first album at the age of 19. She's a pianist, harpist, Celtic singer and composer, and has even collaborated with Band of Horses. Professor David Purdie is a Doctor of Medicine, Fellow of the Royal College of Physicians of Edinburgh, Honorary Fellow of Edinburgh University's Institute for Advanced Studies in the Humanities and a well-known public speaker. He may not have collaborated with a rock band, but veteran Herald journalist Jack Webster did once describe him as 'just brilliant' – and he also knows a bit about golf.
Phamie and the Prof together take us on whirlwind trip through Scottish history, beginning in Edinburgh, where Phamie plays a fine piano étude to accompany a montage of images, from Princes Street Gardens to the Forth Bridges and a misty Arthur's Seat. The Prof follows this with the story of Scotland's earliest days and a moving reading from the first translation of Virgil's Aeneid into Old Scots. And so we move on, by way of everything from Sir Patrick Geddes, Montpelier (inspiration for Phamie's next piece, Carousel), Voltaire and the Scottish Enlightenment, to Scotland's national poet, Robert Burns.
The Annandale Way runs its course from the Moffat Hills to the Solway Firth. Phamie's étude Annandale reflects the changing seasons in this (now) peaceful landscape, and is accompanied by film of the rivers and fields of Dumfries and Galloway.  The piece was commissioned in 1998, and a year later Phamie was commissioned again, this time by Celtic Connections, to write an hour of music as part of its New Voices series. She chose as her inspiration the history of her birthplace, the Lammermuirs. The acoustic harp solo from this work recalls Borders landowner Lady John Scott, a songwriter and collector, and a champion of Scots language, history and culture, who rewrote the words to Annie Laurie and Duris-deer. We are invited to imagine her riding out across the hills, and this evocative piece of music brilliantly conveys the horse's changes of pace – trotting, galloping, walking, and eventually returning home.
Phamie's second harp piece was inspired by the legend of Ossian; it shimmers with the heat of a summer's day, and is the setting for one of the highlights of the show, an enchanting shared reading of the traditional Hebridean folk song Sleeps the Noon in the Deep Blue Sky. To counter any over-romanticising of Highland life, the song is followed by one in a very different tone. O Mo Dhúthaich is a Gaelic lament by an exiled Highlander, singing from far across the Atlantic. This victim of the barbaric Clearances (or 'Cleansing') sings of her hopeless wish to see the Water of Dye once more;
'Oh my country, you are on my mind.'
The scenes we now see, as Phamie sings this poignant song in Gaelic, are of deserted crofts, ships, the Statue of Liberty, and the Highlanders' memorial at Helmsdale.
And then we have come full circle, back to Edinburgh, and some scenes and poems from the life of one of its most famous sons, Robert Louis Stevenson, a film of the Royal Scots Dragoons Guards' and the London Metropolitan Orchestra's performance of Phamie's Edinburgh, and a panorama of instantly recognisable images (including one of Burns – in sunglasses).
It's been an eclectic, and indeed a hectic, hour, and of course there is much more to Scottish history than this, but sometimes, on a rainy Edinburgh day, we all need something that leaves us with the warm glow of knowing that, despite all that's wrong with it, we live in an exceptional country. As we descend the carpeted stairs of the club the aroma of a good cooked lunch fills the air, and even those of us who are heading straight out onto Princes Street feel that, for a little while at least, all has been well with the world.
Phamie and the Prof is at the Scottish Arts Club, 24 Rutland Square (Venue 310); the final show for the Fringe is at 12 noon on Saturday 25 August. Tickets are available from Fringe Box Office, online here, or on the door, subject to availability (cash only)