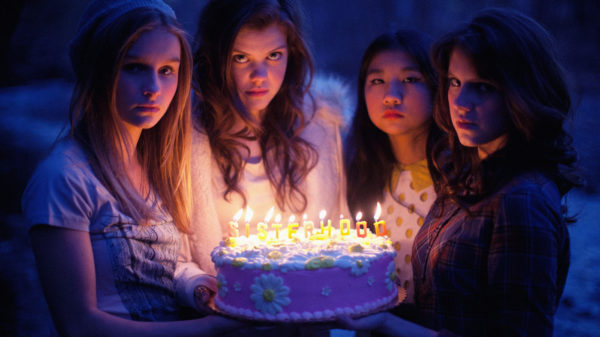 Driven by the mystique that surrounds her school's sorority, a blogging schoolkid follows the group into the woods one night and witnesses something that acts as a catalyst to their destruction. Seemingly overnight, their sleepy American town turns into the epicentre of a modern day Salem Witch Trial.
The ridiculousness of Caryn Waechter's feature directorial debut is more than half the fun. Somewhere along the line, someone seems to have left its endless plot to keep on unraveling; failing to stop it at any point. Side stories of on-off boyfriends cater to a thirsty tween crowd while the dark high school bitchiness makes the whole thing seem like a crass crossover of Clueless and The Craft. A tinkly, cheap score behind it all tries to lift its spirits with a tacky end result, even if has a little visual flare. In amongst a pretty much unknown American cast lies British Narnia alumni Georgie Henley, putting on her best American accent and looking a little too poised for this often miasmic witchhunt movie.
But to sit and critique the filmmaking strategy and gaping plot of The Sisterhood of Night is almost a disservice to a generation of trashy teen movies that serve as its influence. It doesn't reach the dizzy heights of them, but it damn near tries. The sassy attitude of a group of teenage girls and the worried reactions of the film's undeveloped parents is enough for us to define it as a film for teens. It's reminiscent of a series of terrible Nickelodeon films that you find yourself watching time after time; not for their cinematic quality but for their sheer enjoyability. If it wasn't for Waechter's attempts to twist in child molestation and overdoses for dramatic effect, we might be looking at one of those films that's remembered for being so bad that its good.
There's a lot to be picky about when it comes to The Sisterhood of Night. Its undeveloped script, the crass soundtrack that litters it unnecessarily or maybe even the fact that Georgie Henley's casting is rather incongruous to this all American tale. But for a generation of teens weaned on 90's Nickelodeon movies, there's something shamelessly enjoyable about this stuttering, cheesy sorority flick.
★★★☆☆
The Sisterhood of Night plays as part of the Edinburgh International Film Festival 2015. For ticketing information, head to EIFF's website.