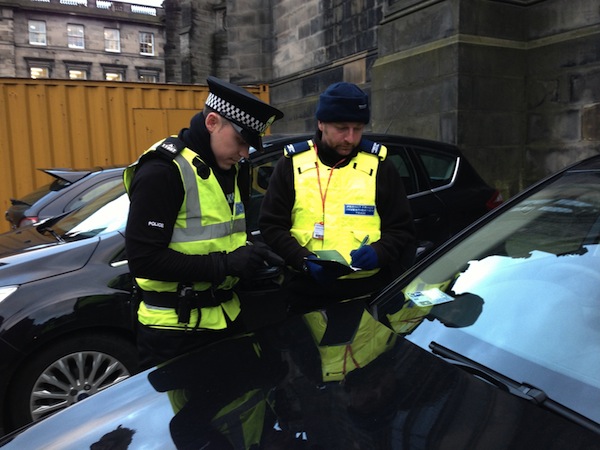 Eight people have been charged as part of a joint initiative to tackle the fraudulent use of disabled parking badges in Edinburgh.
Lothian and Borders Police and The City of Edinburgh Council Fraud Prevention Officers ran Operation Bevel within the Capital between Monday and Tuesday of this week to identify anyone wrongly using the distinctive blue passes.
As a result of the two-day enforcement activity, a number of individuals were charged with various alleged fraud offences. These include displaying a badge when not being registered disabled and using and displaying a badge that did not belong to them.
A blue disabled parking badge entitles the owner to park in marked disabled spaces, in areas where parking is not normally permitted and parking without payment in pay and display spaces
However, both police and council officers have been gathering intelligence on individuals who are not permitted to possess these passes.
Five men aged 33, 37, 48, 53 and 54 and three women aged between 39, 49 and 63 have been reported to the Procurator Fiscal and will appear in court at a later date.
Sergeant Kevin Rafferty said: "The use of as blue disabled parking badge is exclusively for those with a registered disability. However, we have observed a number of people utilising these passes for their own personal purposes.
"Working alongside our partners at the City of Edinburgh Council Fraud Prevention Unit, we carried out a two-day enforcement phase in the city and were able to identify eight people, alleged to be using the badge fraudulently.
"We have also gathered further intelligence, which will be followed up by our colleagues at the council and may result in further charges in the near future.
"Displaying a stolen badge or utilising one if you are not registered disabled is a crime and we will continue to work alongside our partners to bring anyone responsible to account for their actions."
Councillor Lesley Hinds, Transport Convener for the City of Edinburgh
Council, said: "The charging of these eight individuals is a very satisfying conclusion to many months of painstaking investigation and intelligence gathering by the Council's dedicated Fraud Prevention Officer.
"Most blue badges are used correctly but sadly there is still a small minority of individuals who seem to believe that the law doesn't apply to them.
"This close joint working between the Council and Lothian and Borders Police should send a strong message to anyone still flouting the law that we will not hesitate to bring them to justice."