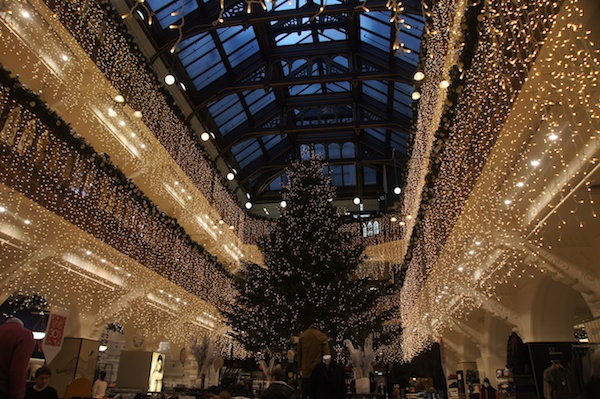 Seven arrested at Hearts match – Edinburgh's Christmas – South Bridge Creative Christmas Fair – EACC Executive Meeting – Leveson Enquiry
Lothian and Borders Police confirm that seven men were arrested during the Hearts v Celtic fixture at Tynecastle last night.
A number of the men, whose ages range from 20 to 44 years, are expected to appear at Edinburgh Sheriff Court today.
Match Commander Superintendent David Carradice said:- "Our priority is everybody's safety and we will take action against the small number whose disruptive behaviour spoils the match for the decent fans. It is important to remember there was CCTV  and video recording equipment within the ground. Working with our colleagues in the FOCUS unit, this will enable police to take action in the coming days to trace those responsible for unacceptable behaviour. "
***
Edinburgh's Christmas will be completely full on from this morning when the German markets open.
Later from about 5 pm there will be more to see at The Mound and down to the Scott Monument. A five metre high giant Santa Claus will lead an assortment of characters up from Princes Street to Mound Place, where the central event – a bespoke show called the Christmas Dream Machine – will take place.  The performance will include illuminations, aerial performances, flying Christmas presents and pyrotechnics, culminating with the traditional lighting of Edinburgh's Christmas Tree and a short burst of fireworks from the Castle Esplanade.
Afterwards, a Christmas Brazilian Samba band will make its way along Princes Street at 6 pm, as action moves to St Andrew Square Garden for an after show, featuring acts including finalists of Edinburgh's Got Talent, the cast of Dirty Dancing, the drums of Clanadonia and a fire spectacular from Flame Oz.
5 pm                       Giant Santa and procession through the crowds on The Mound, followed by Civic Ceremony
5.30 pm                 Performance on The Mound starts
5.55 pm approx   Tree lighting and fireworks from the Castle
6.15 pm                 St Andrew Square Stage Show
***
We know it is not yet 1 December but we have already broken the house rule of not mentioning Christmas till then, so here is another Christmas thing you can go to – today!
The South Bridge Creative Christmas Fair at South Bridge Resource Centre, on Thursday 29 November 2012 between 11am and 3pm.

SBRC is holding its annual Christmas Fair to celebrate the work of all the creative groups that use the centre. There will be ceramics, textiles, cards, books, jewellery and more for sale, plus baking.
Come and meet some Remaders and find out what we've been doing this year, and our exciting plans for 2013.
***
The next EACC Executive Meeting will be held this evening at 7.00 pm in the City Chambers, High Street, Edinburgh.
***
The Leveson Enquiry report will be out at lunchtime today in all its glory. What does this have to do with Edinburgh? Well even though this was a UK government report there are signs that Holyrood might be prepared to take steps to tighten its rules for the Scottish press, which might affect us and every Scottish-based newspaper and press outlet. All Media Scotland has said that First Minister Alex Salmond is ready to amend the rules for press regulation which is a matter devolved to Holyrood. (Broadcasting is a matter reserved to Westminster.)
You can order a copy of the full report should you wish to read it from The Stationery Office, but it will set you back a fairly hefty £250, so we imagine it might be just a bit too much for most, so they are also offering the executive summary as well.
The Guardian has been running a good coverage of the enquiry in the first place, and we imagine they will live blog the day's events as Prime Minister, David Cameron decides what to do with the Leveson Enquiry report. You can access Andrew Sparrow's rolling politics blog here.