Satire sowing the rise and fall of a high street fashion gladiator. Remind you of anyone?
| | |
| --- | --- |
| Direction | Michael Winterbottom |
| Screenplay | Michael Winterbottom |
| Cast | Steve Coogan, David Mitchell, Isla Fisher, Shirley Henderson |
| Length | 104 minutes |
| Rating | R |
Sir Richard McCreadie (Coogan) is a fashion magnate preparing to host his 60th birthday on the Greek island of Mykonos, complete with Gladiator style dress robes, wooden colosseum and lion (no, really). In summary he is a disrespectful monster, humiliating his subordinates and superiors alike, yet all the while being thoroughly entertaining. Any normal person would run for the hills, but the problem is he is a billionaire so people are willing to ignore his explosive verbal diarrhoea for reasons I actually can't identify.  
Why do people put up with such assault, I wonder? Nobody he abuses appears to be very well paid, yet celebrities are falling over themselves to work with him. Is it the proximity to success or chance of career advancement? It can't be the money as he doesn't appear to be the sharing type. 
Flashbacks of his childhood and education at a private school provide us with enough understanding of his development of a thick skin and abrasive attitude, even if we don't necessarily sympathise. From gambling with, or rather against, his fellow students at home to bartering with tuk-tuk drivers abroad, his undivided ambition to make money regardless of failure, which happened several times, warrants some form of admiration. His methods, however, even when achieving success are not warranted in any fashion.  
McCreadie exhibits all the grandiose characteristics of a mafia godfather rather than the oily boss of a clothing empire but that doesn't mean his reign is any less bloody. His dressing up as the Gladiator only adds to deranged emperor image he wants to dissipate. Despite a fire claiming the lives of the exploited workers, arguably slaves, in the supply factories that feed the low cost fashion economy, he carries on regardless taunting the refugees on the beach below his sprawling complex with card tricks forcing them to work for him for free.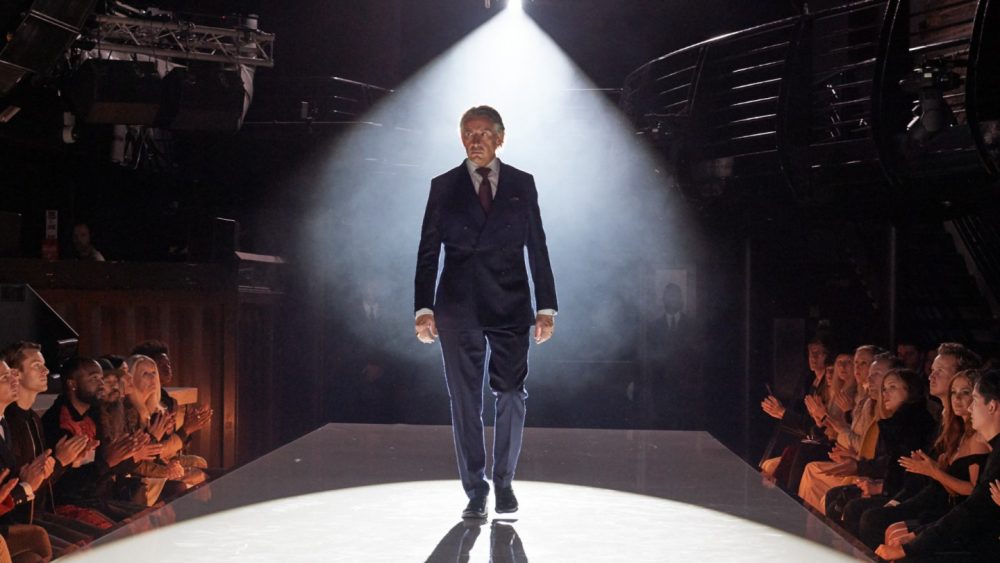 Steve Coogan is excellent as McCreadie, a man whose life is as artificial as his self-importance. So is Shirley Henderson who almost steals the show as Margaret McCreadie, Richard's Irish megalomaniac mother. Wonder who he gets it from? Wonder no more. David Mitchell is equally as good as McCreadie's biographer whose interviews with those who encountered McCreadie at various points in his life serve as the backbone of 'Greed'. We get a crash course in tax avoidance in the middle and the shocking facts of fast fashion as the end of the film.
Essentially, McCreadie is the English Malcolm Tucker. Although both are manipulative and enthralling, Tucker operates in the shadows while McCreadie exists in the spotlight. His charismatic but superficial public image, exploitation of low paid foreign workers and corruption of financial accounts for personal gain scream of one individual in particular. His overconfidence merging into egomaniacal fantasy, sneering behaviour at a parliamentary inquiry and suggestions by those parliamentarians to remove his knighthood are a wealth of evidence to suggest McCreadie is based, at least in part, on one person.
Even the title of the film is only one letter away from reality. 'Greed' is a grossly funny and relevant creation but don't let your guard down. Beware the lion whatever you do.
'
★★★