This is what happened in 1961.
The first blocks of the Berlin Wall were laid. The USA attempted to invade Cuba at the Bay of Pigs. John F Kennedy became the 35th President of America. The Beatles appeared at the Cavern Club.
And on 24 January, a certain Bob Dylan drove from Wisconsin to Greenwich Village, New York City, and played Gerde's Folk City on West Fourth Street.
Greenwich Village was then the hub of the counterculture movement – of art, writing, theatre, and folk and protest music. And it is into this Bohemian atmosphere that we are led in These Streets, Jennifer Skiffington's new play with songs at Paradise in the Vault.
Club owner Izzy (an assured and nuanced performance from Joe Coffey) assumes the role of classic chorus, speaking to the audience and acting as general commentator on the times. The Village may be hip but it is also, he explains, a place of heartbreak and disappointment, of hopes lost and dreams shattered. Izzy's staff include Ben (Ari Litman-Weinberg, excellent), bartender and secret singer, Artie Bernstein (Dustin Green), guitarist and largely silent observer, and Nancy (Giselle Fischman), waitress and aspiring writer, whose only success so far has been an article about a lost kitten.
Eve (Skiffington), a songwriter newly arrived from Minnesota, turns up at the club hopeful of a performance slot in the hootenanny, but is ousted by Dennis McKinley (Josh Bales), a denim-clad, Dylanesque, Mr Cool. Skiffington has a strong voice and the pair give a romantic rendition of Down in the Valley. Dennis takes an immediate shine to Eve and invites her to sing with him; in no time at all they are leaving the club as a couple. Left alone, Ben and Andy improvise their own rock & roll version of Down in the Valley, which I must say is a lot more fun, as is Andy's later, pre-punk 'song' I'm Scared, which in another life could be straight from the pen of Johnny Rotten.
Gradually Ben and Nancy realise that they are also in love. Litman-Weinberg & Fischman give a charming performance of Suddenly; I enjoyed their shy looks and cautious meetings, and Fischman has a beautiful singing voice.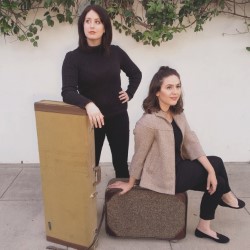 When Earl Lansing (Stephen Juhl, who also directs), a scout, arrives at the club, Dennis and Eve sing for him (Ben refuses) but only Dennis is offered a contract. Eve is devastated when he accepts without a backward glance but, as Izzy warns us;
'Sometimes getting everything you ever wanted can turn you into someone you never wanted to be.'
As Eve drowns her sorrows and complains to Nancy, Nancy is equally frustrated that Ben won't ever take a chance on a musical career. When Dennis returns to show off his new album, Eve is shocked – Dennis has sold out to popular culture and abandoned the songs they used to sing (and she wrote) and what she sees as his chance to 'do and say something that matters.'
These Streets is Eve's solo, in which she laments what has happened to Dennis, and to them as a couple.
Although Eve thinks Dennis has ignored her criticism, we soon see that it has had an effect; Dennis tells Earl Lansing that he wants to go back to his musical roots, but as Lansing points out;
'You've got to give people what they want to make money. We're not in the business of saving the world.'
The resolution of Dennis's dilemma is predictably a happy one, and his song, I'd like to write a song/to show the world how to get along has, at least for me, rather too many saccharine echoes of that famous advert for a certain carbonated drink (although I'd like to teach the world to sing didn't actually come along till ten years later). In 1965 Dylan famously 'sold out' by introducing electric instruments to his previously all-acoustic shows. He was booed off the stage at the Newport Folk Festival (in retrospect maybe not the best place to experiment), with Ewan McColl later writing (in Sing Out magazine); 'Only a completely non-critical audience, nourished on the watery pap of pop music, could have fallen for such tenth-rate drivel.'
But Dylan didn't turn back. Dennis does. Who was right? As Izzy says; 'So it goes in the Village. What will your story be?'
These Streets is a well-acted play, with all of the performers inhabiting their characters convincingly. The plot is, however, simplistic in places, and doesn't always seem to be able to decide if it is a straightforward love story or a serious examination of identity and political commitment. Nevertheless, it is an entertaining hour, and Dustin Green is particularly to be congratulated on his great musical arrangements.
These Streets was at Paradise in the Vault, Market Street (Venue 29). It was a Palm Tree and Pine production.