With world premieres, major retrospectives and work from established and emerging artists among more than 50 exhibitions presented by galleries, pop up venues and historic spaces across the length and breadth of the city, the 16th edition of Edinburgh Art Festival concluded yesterday having recorded over 290,000 attendances.
Over 80% of the programme is free to attend and 21 community groups were welcomed from across the city to experience hands on art work.
The diverse 32-day programme for 2019 featured the work of over 300 artists from Scotland, the rest of the UK and across the world, firmly positioning visual arts at the heart of Edinburgh's world-famous summer festivals and highlighting the vibrancy of the city's year-round visual arts offering.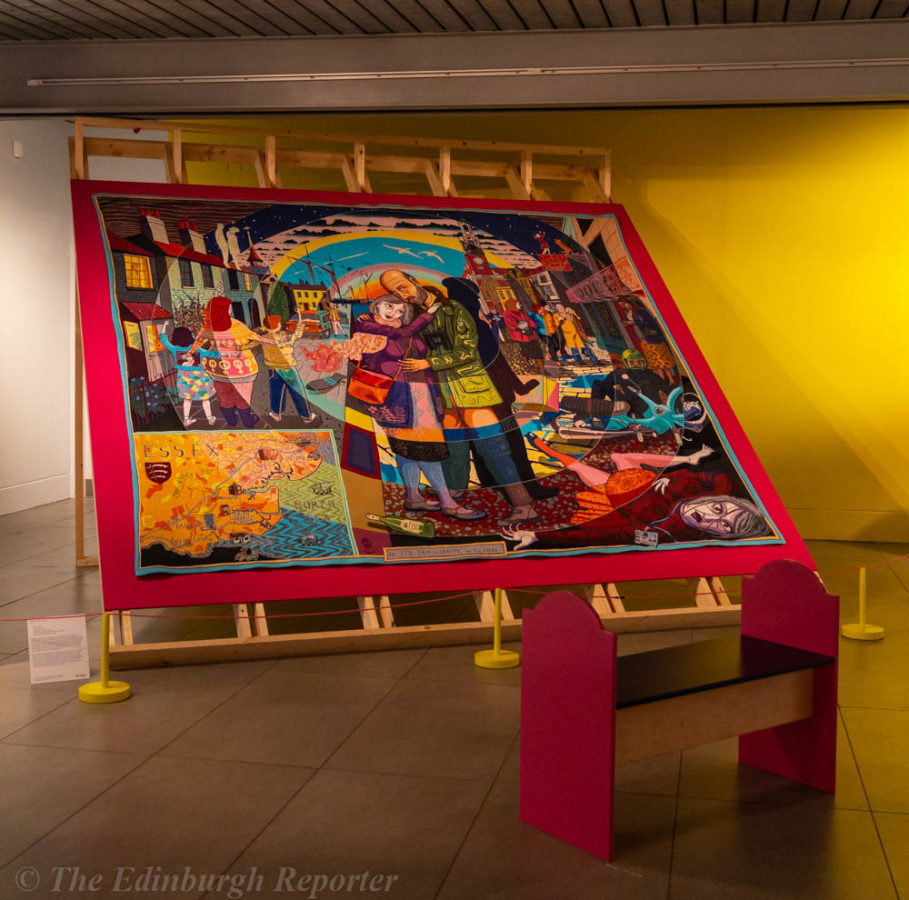 Sorcha Carey, Director of Edinburgh Art Festival, said: "From swimming pools to muted orchestras, Kate Bush videos, deer dancing, tapestries and optical illusions, our 16th edition has been a full-on immersion in the creative possibilities of our art form. It has been a privilege to share the extraordinary breadth and range of visual arts in Edinburgh with communities from across the city and around the world."
A wide-ranging programme of more than 140 events and talks, including hands on opportunities to make artwork, gave audiences of all ages opportunities to learn more about the inspiration and techniques behind the exhibitions. This included events for children and their families, 75 percent of which were free to attend. The Festival also worked with 21 community groups across the city and beyond, including SCORE Scotland, ReAct, The Welcoming, Shakti, Grassmarket Community Project and Glasgow Women's Library, for over 40 free workshops and tours exploring the 2019 programme.
The 2019 Commissions Programme supported five internationally acclaimed artists to create new work; Nathan Coley, Alfredo Jaar, Rosalind Nashashibi, Corin Sworn and Sriwhana Spong. The five commissioned artists animated sites across the city, including Parliament Hall and St Bernard's Well on the Water of Leith to reflect Stories for an Uncertain World and attempt to make sense of today's ever changing, divided world.
Rosalind Nashashibi's two-part film inspired by the writing of the sci-fi writer Ursula K. Le Guin will tour to Cample Line in Dumfries in October, as part of a new initiative supported by the PLACE programme to share work commissioned by the Festival with audiences across Scotland. Audiences in New Zealand will have the opportunity to see Sriwhana Spong's work castle-crystal at Auckland Art Gallery in Spring next year.
The Festival's annual showcase of early career artists, Platform: 2019, selected by artists Monster Chetwynd and Toby Paterson, featured Anna Danielewicz, Joanne Dawson, Harry Maberly and Suds McKenna. The participating artists will continue to be supported through a bespoke mentoring programme.
Night Walk for Edinburgh by Janet Cardiff and George Bures Miller took audiences on a surreal journey through the dark side of the festival city. A reworked version of this world premiere work will return this winter as part of The Fruitmarket Gallery's programme.
Two exciting new contemporary art venues hosted their first Edinburgh Art Festival exhibitions, Edinburgh Printmakers' new home on the site of an old rubber factory presenting with Deer Dancer by Hanna Tuulikki and group show A Machine for Making Authenticity; and Collective's reimagined city observatory showing Migratory Motor Complex by James Richards.
Other highlights across the 2019 Festival programme included:
Edinburgh Art Festival is programmed in partnership with galleries, museums and artist-run spaces across the city, with over 80 percent of the exhibition programme free to attend as part of the Festival's ongoing commitment to ensuring visual art is as accessible as possible for all.
Edinburgh Art Festival 2020 will run from Thursday 30 July to Sunday 30 August.
Core funders and major programme supporters for Edinburgh Art Festival are: Creative Scotland, The City of Edinburgh Council, The Scottish Government and EventScotland.
The Commissions Programme is made possible thanks to the generous support of the Scottish Government's Festival Expo Fund, EventScotland and the PLACE Programme, a partnership between the Scottish Government, the City of Edinburgh Council, and the Edinburgh Festivals, and supported and administered by Creative Scotland.
Platform is made possible thanks to the PLACE Programme, a partnership between the Scottish Government, the City of Edinburgh Council, and the Edinburgh Festivals, and supported and administered by Creative Scotland. With additional support from Edinburgh College of Art, University of Edinburgh. Mentoring programming supported by the Saltire Inspiring Scotland Programme.