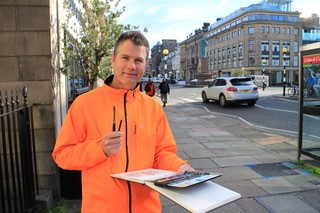 Andrew Glidden found himself spending the whole day working at his desk but he set himself the challenge of leaving his studio once a week for a year to do a quick sketch of whatever took his fancy.
The rules were simple, 15 minutes maximum, no rubbing out and interest grew once he posted images.
Now an exhibition of 52 sketches is open in Edinburgh until October 26 and he has published a book documenting the sketches and journey.
Profits from the sale of the original sketches go to Alzheimer's Research UK and the exhibition is on at White Stuff, 89 George Street, Edinburgh, EH2 3ES (second floor).
Commercial designer Andrew, who studied at Edinburgh College of Art, said: "I found myself spending almost the entire working week sitting at my desk in our George Street studio in front of the computer, eating lunch at the same desk.
"I needed to break the cycle. After an inspirational visit to the Royal Scottish Academy Summer Exhibition, I decided to get out of the studio one lunchtime a week for a year and do a sketch of whatever took my fancy.
"With no client to satisfy and no ambition beyond the therapeutic process itself, the journey began. Friends and colleagues were encouraging, and all of a sudden here we are. The year has passed, all 52 sketches completed, an exhibition and a book."