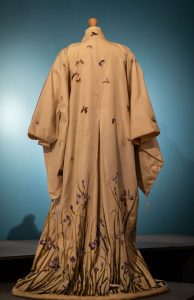 From an opulent silk brocade dress worn by Lady Lawson Walton at the Court of St James in 1906 to a digitalised metallic blazer made by Central St Martin's rising star Richard Quinn for London Fashion Week, Liberty Art Fabrics Fashion, the new retrospective at Edinburgh's Dovecot Gallery, spans 143 years of the history of this iconic British institution.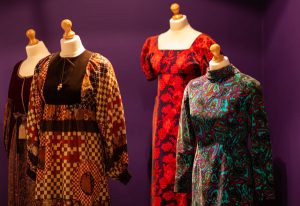 Kate Grenyer, Dovecot's Exhibitions Curator, has adapted a touring exhibition (originally presented at the Fashion & Textile Museum in London) to make it particularly relevant to Scottish viewers. Alongside the creations of Liberty in-house designers such as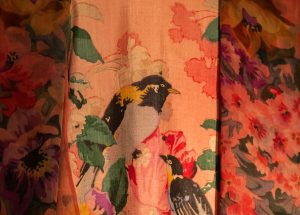 Bernard Nevill, Susan Collier and Sarah Campbell she shows us pieces by Jean Muir, Bill Gibb and Marion Donaldson, for while Liberty's mock-Tudor London shopfront is an essential element of the brand, the company has had international connections from its earliest days.
The son of a draper and lace manufacturer, Arthur Lasenby Liberty started his working life in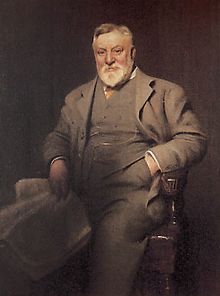 a lace warehouse in Nottingham before moving to Farmer & Rogers Great Cloak and Shawl Emporium in Regent Street. He wasn't one to hang about; he was soon in charge of the Oriental department, where he met and made connections with many big names in the Aesthetic Movement, among them Dante Gabriel Rossetti, James Whistler, Edward Burne-Jones and William Morris. When Farmer & Rogers didn't offer him the partnership he wanted, he borrowed £2,000 from his future father-in-law and, in 1875, took the lease of the first of several small shops across the street, naming it Liberty & Co. These shops eventually formed the store we know today.
Liberty's originally sold fabrics imported from the Far East, but, as the public's appetite for all things exotic grew and grew, it soon started stocking costumes, fans, ornaments, china,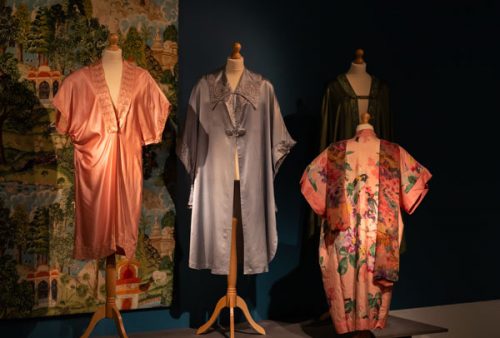 lacquer and enamel wares. In the 1850s, after 200 years of isolation, Japan had opened up trade with the west; oriental fashions became immensely popular, but Arthur Liberty could see that the market would soon be saturated, so he branched out into China and Middle Eastern countries. Liberty's continued this tradition for many years, not only importing foreign goods but also using Eastern designs as inspiration for its own collections.  In the first room of the exhibition there is a beautiful satin kimono, a 1920s satin/woven ikat bolero and a sumptuous burnous (or hooded cloak) from c1910 – a grey satin coat with an embroidered collar, tassels and cuffs.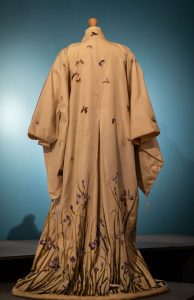 Discarding the tight corsets and structured clothes of the Victorian era, the Aesthetic Movement favoured loose garments and flowing lines. Liberty's reflected these new ideas, using embroidery in place of frills and appealing to women who identified with the Arts & Crafts Movement and the wish to return to a 'golden age' of pre-industrial bliss.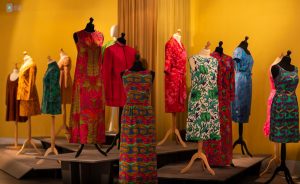 Although Liberty's clothes may always have been out of the reach of many women, their fabrics have not; dressmaking was flourishing as early as 1930, and one of the many charms of this exhibition is the inclusion of outfits made at home. A crepe summer dress in light florals would be as fashionable today as it was over 80 years ago; a sleeveless white and green linen dress was made in the mid-60s for Susan Thurlow by her Mum, a note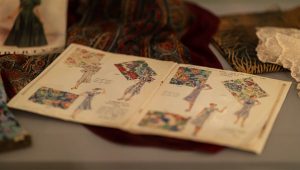 explaining that the original short sleeves had been altered at a later date. Fabrics such as Tana Lawn and Sungleam, both Liberty exclusives, were very popular buys, and it is especially interesting to see the quality and artistry of buttons and clasps used, the latter often reflecting the Art Deco styles of the times. The exhibition includes some Liberty dressmaking patterns.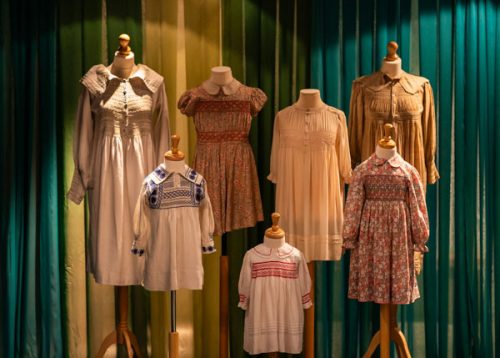 Another fashion popularised by Liberty's was smocking; what was once a practical means to allow agricultural workers to move their arms freely had, by the 1920s (and with the aid of children's illustrator Kate Greenaway), become a Liberty's trademark. It was particularly popular in Paris, where wealthy parents liked to dress their children in nostalgic fashion. In the 1970s it again came to the fore, and indeed little Heskia dresses still form part of the staple wardrobe of many a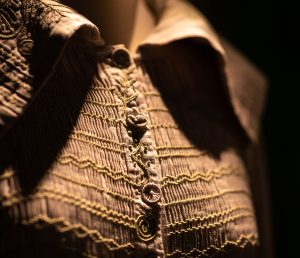 Knightsbridge two year old. Liberty scarves were introduced, and a selection of these is featured in one of the exhibition's glass cases. They are, of course, as collectable now as they were then – they have never been out of fashion ('a highlight for many shoppers') – and a fascinating catalogue shows that a large scarf cost £2 10 shillings, a small one 9 shillings and sixpence, and a pochette – a lined bag with a purse and mirror and a square to match – just £1 3 shillings and ninepence.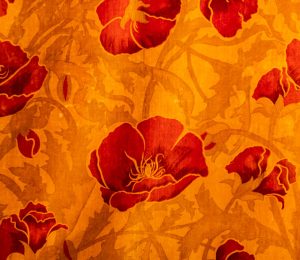 Photographs show the development of Liberty's own design studios. A Miss Penfold and Mrs Sutton are seen preparing designs for printing at Liberty's Merton (SW London) works in the 1950s, and other photos show that handcrafted textile production was still practised there long after most other textile companies had moved to large industrialised mills. (William Morris himself had started his tapestry studio at Merton in 1881; the founders of the first Dovecot Studios had trained there.)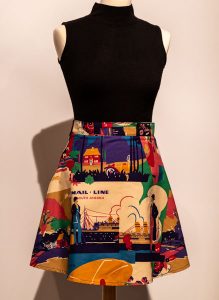 After all the nostalgia of the first part of the 20th century, the 1960s brought sweeping changes to the fashion world. The designer, aesthete and academic Bernard Nevill joined Liberty's in 1965; he revitalised their traditional prints, introducing Art Deco-style patterns and Islamic themes. Nevill's stunning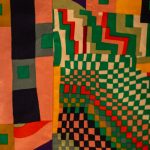 fabrics – including the iconic Jazz, Cunard and Macedonia designs – were used by Yves St Laurent, Annabelinda, Faole & Tuffin, Cacherel, Jean Muir and Liberty's themselves.
'It was sheer perseverance to convince them [Liberty's] that my feelings, my antennae for where the wind was blowing, were worth following commercially.' (Bernard Nevill, interviewed in 2006)
There are some exquisite examples of Nevill's work in this collection.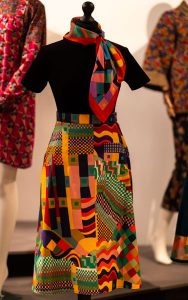 Nevill was succeeded as design director by Susan Collier, whose Bauhaus design became another Liberty classic, shown here in a Dolly Rockers skirt and scarf.
The 1960s saw the advent of Swinging London; Carnaby Street was just round the corner from Liberty's, and designers like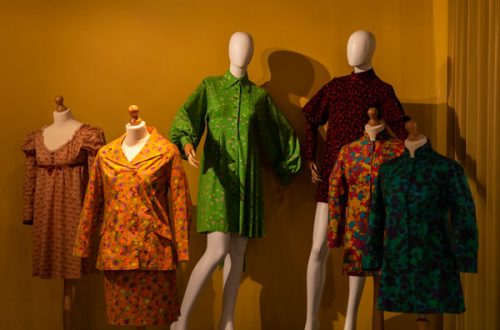 Mary Quant and Jean Muir made good use of the store's wholesale fabric collections. A Mary Quant Ginger Group mini-dress in green wool and cotton is typical of the new look. Sambo Fashions' Dolly Rockers label is well represented here; Sambo came from the name of the house designer, Samuel Sherman, and George Harrison's girlfriend Pattie Boyd was the 'face' of the label. A double-breasted suit in orange patterned cotton epitomises the style of the times.
It was not only London that was swinging. In 1966, three days after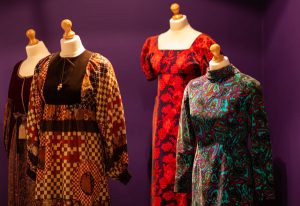 her wedding, Glaswegian-born designer Marion Donaldson and her new husband David rode their Lambretta up to Glasgow, laden with Liberty fabric bought with David's staff discount. Marion had no formal training in fashion (she had previously been a teacher, while David had studied psychology before taking the job at Liberty's) but, undeterred, she started work with her sewing machine at the kitchen table, sold her first pieces to In Gear, a boutique just opening up on Gibson Street, and soon became so busy that the work had to be contracted out to local factories.
'I was wearing purple bell-bottoms I had made with a big brass zip and a skinny polo-neck. At that time, no one had purple anything. So the owner (of In Gear) said she would take some of them. And that was it.' (Marion Donaldson, interviewed by Julie-Anne Barnes in 2016 [Daily Record]).
Within three years Marion's clothes were being sold all over the UK; she was still using Liberty fabric, and became their largest customer in Britain. Several Donaldson designs are included in the exhibition.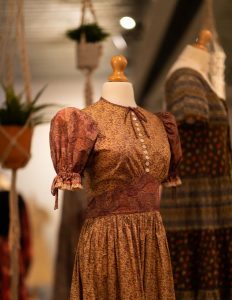 During the 70s fashion became less geometric, once more referencing fluid, romantic dresses as people looked back nostalgically to what they wanted to see as the perfect rural life of pre-industrial England. Designers such as Annabelinda and Bill Gibb cashed in on this trend, using traditional Liberty floral cottons to create 'country milkmaid' fashions. A quilted Tana Lawn dress by Annabelinda exemplifies this style, with its small capped sleeves and apron string ties.
But neither fashion nor Liberty's stands still. The final pieces in the exhibition are by Richard Quinn, the South London designer who launched his own label in 2017. The first recipient of the Queen Elizabeth II Award for British Design, Quinn thrilled this year's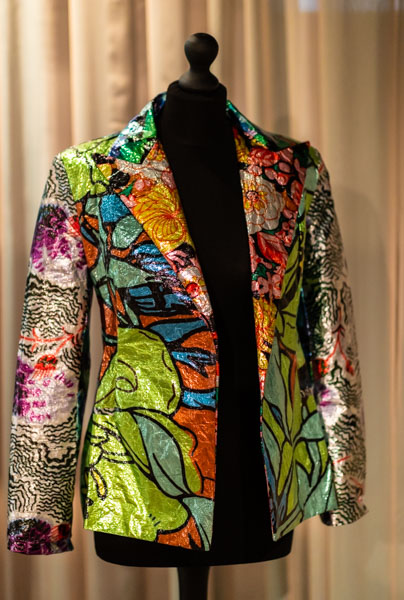 London Fashion Week with his runway show in the Regent Street store itself. Quinn reconfigures and digitalises Liberty florals, using them with his own prints; there is no nonsense about lost rural idylls here. Instead he references bondage, his models swathed in fabric from head (often literally) to toe; his (sometimes metallic) fabrics in violent shades of yellow, purple and green occasionally putting one in mind of an exceptionally attractive box of Quality Street. In his 2016 Central St Martin's MA show Quinn unwittingly subverted Liberty's classic Carline print, but far from being affronted, Liberty's offered him five more prints for his 2018 collection, then gave him access to their archives to create an accessory range, launched in July.
This collaboration between the revered British firm and fashion's shooting star surely underlines the reason why Liberty's has survived in a cut-throat market for 143 years.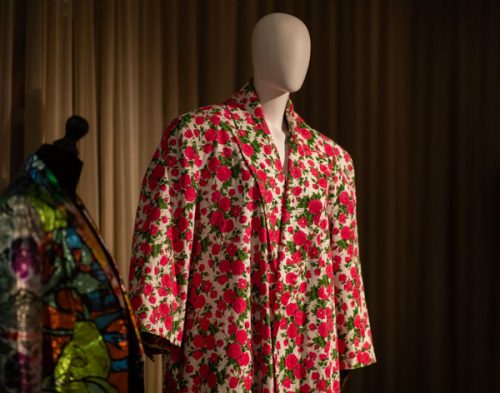 Arthur Liberty was a visionary who wanted to create new fashion, not follow it, and since its earliest days Liberty's has been both source and originator of key trends and design revivals. Quality may be synonymous with the name, but this is never at the expense of progress. There is a dynamic energy to the brand that so many lesser labels lack, a dynamism that keeps it moving forwards, at the forefront of its own very particular brand of fashion, while still producing the classic fabrics, scarves and dressing gowns so beloved of so many customers.
Liberty Art Fabrics & Fashion is at Dovecot Gallery, 10 Infirmary Street, Edinburgh EH1 1LT until 12 January 2019. It is a partner exhibition of Edinburgh Art festival 2018. Opening hours: 10.30am-5.30pm (8pm on Thursdays) during August only, otherwise 10.30am-5.30pm Monday-Saturday, closed Sundays. Admission charges apply for this exhibition.
With thanks to Kate Grenyer for all her help.
All photographs (c) John Preece. Portrait of Arthur Lasenby Liberty by Arthur Hacker (1913).