Grand Marshal is a term which means what it says. This is the person who leads the Tartan Week Parade right from the start all the way down Sixth Avenue from 44th St up to Central Park.
In the past the honour has fallen to men with names such as Sean Connery, Alan Cumming and last year actor Tommy Flanagan.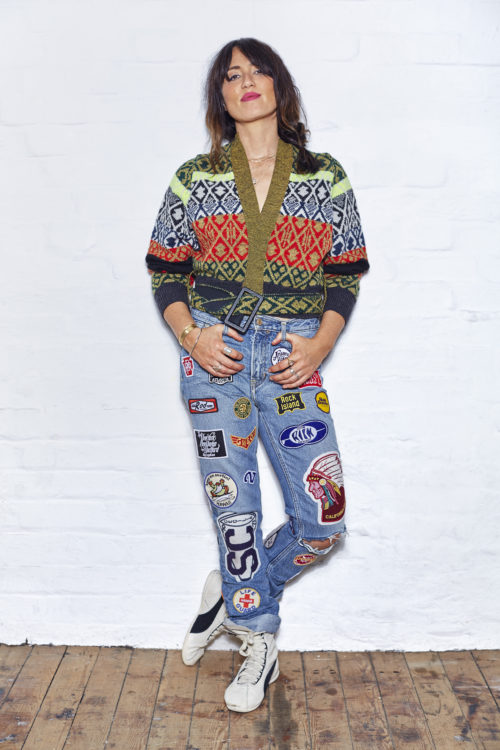 This year it will be Edinburgh-born musician KT Tunstall who takes pride of place. She is excited about being the first woman to have been chosen, and she has made sure she has a hot date who will walk the route with her – a 9 year-old greyhound called King. She met him on Friday just after our interview in the lobby of the Algonquin Hotel, and there was an instant bonding session. "Does he like treats? I have a special coat for him to wear!"
And the reason for the dog? She explained :" I was thinking of the old Scottish portraits and the historical figures always have these amazing big lurchers and hounds with them. I am a passionate doggy person and I found a brilliant ex-greyhound Rescue Centre in New York where Dan who is King's owner found him.
" We've decided to have King walk with me. He has a new home with Dan so sadly I can't take him home with me!"
And at this point in the interview she almost squeals with delight. "And I've just been told that I have to judge the dog competition."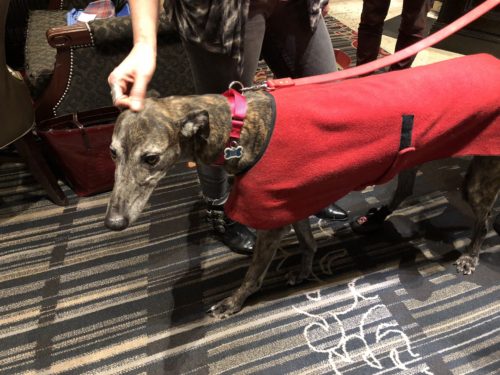 And King has a matching jacket. So this allowed me to ask how she herself will be dressed. Clearly she has given this quite a lot of thought.
"This is an important job tomorrow. All I've been told is that I have to stand at the front, walk down Sixth Avenue and be fabulous!
"I have a nice pair of platform shoes that are easy to walk in. I will not be wearing heels! Stella McCartney will be responsible for my feet not being sore tomorrow. I am excited about what I'm wearing.
"I decided that I really wanted to really accentuate the amazing relationship between tartan and rock n'roll. You have the Bay City Rollers right and then Vivienne Westwood who really brought tartan into music as a mainstay fabric. It was a very recognisable punk rock emblem. I guess tartan was a rebellious, tribal feature in clothing. So for me growing up as a musician tartan has always been a rock n' roll thing to wear.
"I really wanted to bring that spirit into it. If I was to wear something really traditional it would be wearing me. It's just not what I would wear. So I thought what could I do?"
I suggested then that there had to be a wee bit of tartan in the outfit to which the response was a throaty laugh : "I would say there's more than a bit! As Grand Marshal you are the most visible person, so I was thinking about how to really stand out and be visible because it is important being the first woman to be the Grand Marshal.
"I played Tartan Week in 2004 or 2005. It was one of my first booked gigs in the US ever. I had spent my twenties on the dole, living in a cottage outside St Andrews. It was a 48 hour party and I don't remember too much about it to be honest."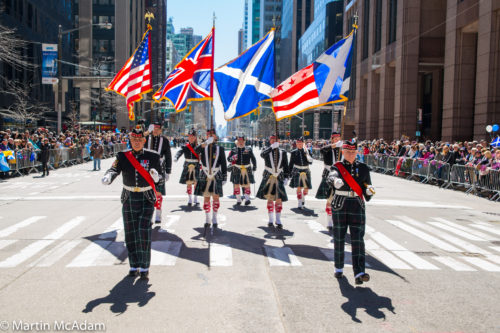 But back to the outfit….
"So the outfit is James Hare tartan. They make beautiful tartan silk.
"I have taken a couple of pieces from my own wardrobe, things that I have worn and I had a fantastic tailor Felippe Johann in London who has basically made me a custom outfit that really feels like me.
"It is the 20th anniversary and it is about time that a woman was leading it. I have been told that women have been asked in the past, but it has just not ever worked out. But I hope that from now on it is much more of a mainstay.
"There are so many brilliant Scottish women who've got so much to offer. But the important thing for me is that with gender equality sweeping the globe which is fantastic, being in the middle of a tipping point that is happening in real time. Talk is good because you've got to have visibility and for me that is key.
"I started out with a public career in 2004 and still if you look at a festival lineup and take off bands that don't have a woman in them you're left with a small number, maybe five or six bands. It is not entirely because organisers and bookers are not actively making sure that they're booking bands with female members or female artists, it is also because there is a real lack of girls playing instruments in bands. There are still not enough women in roles for young girls to look at and say I want to be like that.
"It is an extra really significant leap for kids. Look at what has happened with Black Panther. African-American kids and black kids all over the world have not seen themselves as the hero and the supporting cast.
"It was an incredible experience when I went to see it in LA. Every single one of the 15 screens at the Arclight in Hollywood was playing the film and there was possibly 10% of white people in the cinema. It was extraordinary watching the relief and joy, the celebration of people seeing themselves in roles that they hadn't seen themselves in before.
"It is the same thing here at Tartan Week. It is a 'Why not a woman?"moment, and gender is not an issue.
Talking about Hollywood and the issues which have been aired there she is quite animated in her view. KT said : "The pendulum has swung the other way and people who are victims of abuse or whatever need a very safe space to come out and talk about what has happened to them. At the same time a big part of the problem has been people exploiting that situation.
"Lots of people will have slept with people for work in lots of industries, and that perpetuates the problem, and that has to stop.
"The problem is that at the root of it all was a culture where that works.
"People have to be strong now and fight that behaviour. Women will have to start opening doors for men too!"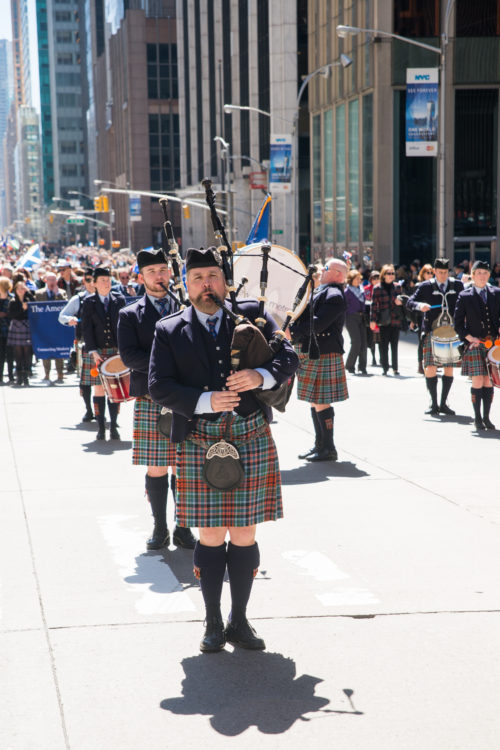 "I love the pipes despite the fact that I can remember a time when I was busking on Buchanan Street in Glasgow and a bagpiper who set up opposite me completely drowning me out! I tried to learn the bagpipes when I was younger but it was too hard. I couldn't do it. It's really impressive to watch."
She plays piano which she began to learn at four years old, flute which she learned to Grade 8 then put the flute away in a cupboard. She taught herself guitar and drums, and has never had a singing lesson.
"I can pretty much get a noise out of anything except violin and cello which are beyond me. "
KT studied composing at a two week boot camp in Sundance, where she did meet Robert Redford, exclaiming that she was completely starstruck. "He is gorgeous. What a beautiful man who has done amazing things for film. That was a definite highlight of meeting famous people.
"I was the only one of six who had not scored before. It was the steepest and most enjoyable learning curve of my adult life. I have just scored a film called Late with Nathalie Emanuel in it along with a couple of other short films.
"I work job by job which allows me to flex different creative muscles. There's a slightly more experimental, weirder interest in what I make that is really piqued by it being less structured and less traditional than songwriting.
"But I think it feeds into my songwriting too, and allows me to see instrumental music as lyrical. Before I always depended on the words to bring out the feeling."
This year she will be supporting Gary Barlow, opening for Bare Naked Ladies all over the States (which involves taking an RV all over the place on a self driving tour) and playing with Simple Minds and the Pretenders at big outdoor events in the UK.
Simple Minds have had a big effect it seems. "Meeting Jim and Charlie (from Simple Minds) has been so enriching for my life. They are still 25 year-olds who make new rock n'roll albums. They are beautiful hearted people, great company and great friends now.
Recently she worked with Nick McCarthy of Frank Ferdinand who produced her new album and helped write some of the tracks for it. "I have done so many different things with each record but this is a very rock based album. There's a punkier, rockier side of me that hasn't always been to the fore.
"I have just recorded a cover version of Tom Petty's I Won't Back Down. I collaborated with Mike McCready of Pearl Jam on that. I went up to Seattle and we recorded it in his basement as a kind of tribute. We both loved Tom Petty, and this will raise money for the Pearl Jam Foundation.
As for the itinerant lifestyle she replied : "For now I live in LA. Home is not a one place thing. I love travelling. I have been there for four years and I love it. There is a nomad in me though.
"I played at the Fruitmarket in Glasgow last Hogmanay and we could see Rag 'n Bone Man headlining in Edinburgh on TV afterwards. I was glad to be playing indoors, but yes I would love to come back to Edinburgh sometime.
"Playing the headline slot at Edinburgh's Hogmanay was one of the highlights of my life.
"It was phenomenal. And I curated the next day too with King Creosote and a few others."
Then she remembers that actually she is coming to Edinburgh next week. She is appearing at The Playhouse with Gary Barlow. So we will meet then. It will be another pleasure. This is a super grounded superstar and we had a really pleasant half hour, despite having been told I had a slot of fifteen minutes!
We leave with a final word : "I haven't been back to St Andrews for a while, but I will be back in Edinburgh next week with Gary Barlow at The Playhouse. I might play some emotional numbers then. You never know. We'll see how it goes."
What a great choice for Grand Marshal. I am sure she will really do it justice today at the head of the thousands of Scots taking part, with all the pipe bands, the drummers and the dancers following her. I hope they have half as good a time as she intends having.
More photos of this year's parade will be available later today and tomorrow.