Jeremy Balfour, Scottish Conservative MSP for Lothian met with campaigners from the charity Shelter Scotland in the Scottish Parliament this week.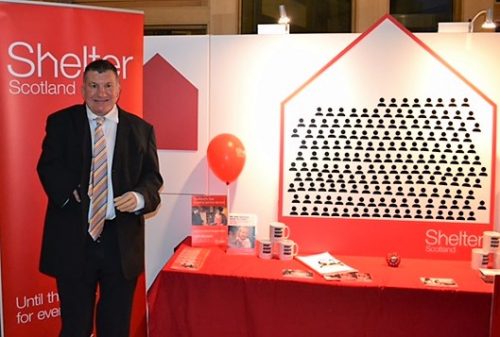 The charity brought its campaign "Homelessness: Far from Fixed" to Holyrood to highlight the human cost of homelessness and to call for urgent action tackling both the causes and the consequences.
Jeremy Balfour said : "Homelessness is a huge issue across Scotland and in particular in our local communities.  In Edinburgh last year, 3,352 applications were made under the Homeless Person legislation and 781 children were registered for temporary accommodation in our city – a staggering 58% increase on last year.  I welcome Shelter Scotland's new campaign for action as every effort needs to be made to ensure everyone, especially children, have a roof over their heads and a safe place they can call home."
Graeme Brown, Director of Shelter Scotland, said: "I am heartened to see MSPs, including Jeremy Balfour, show support for our campaign by taking the time to talk to us in parliament and find out more about how the issue is affecting constituents.
"We are seeing new steps being taken, including the Scottish Government's creation of a £50 million 'Ending Homelessness Together' fund and the launch of an action group on homelessness but we really need MSPs from across the political spectrum to work together with us to make an even bigger difference."
Shelter Scotland has submitted its recommendations for action to the Scottish Government Action group on homelessness and rough sleeping.
The Far from Fixed campaign's four main demands are:
A safe and affordable home for everyone
Help is available for everyone to keep or find a home
A strong housing safety net to catch people if they do lose their home
And, that no-one should ever have to sleep rough on Scotland's streets