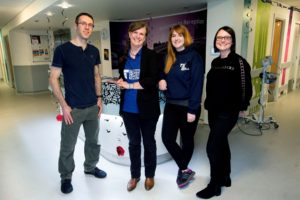 Teenage Cancer Trust, the charity that provides life-changing care and support for young people living with cancer has received a £1,000 donation from Amazon's local Development Centre.
The charity, which built a specialist cancer unit at Edinburgh's Western General Hospital five years ago, has supported thousands of young people with cancer in Scotland.
The organisation plans to use the donation to continue its work delivering world-class age appropriate support for young people with cancer.
To mark the donation, members of the team from Amazon's Development Centre in Edinburgh visited the Teenage Cancer Trust Unit at Western General Hospital, to see the work the charity has been doing on the ward.
Amazon Development Centre Scotland is responsible for innovations used around the world by the company, including machine learning to power Amazon's smart features like personalised recommendations and intelligent advertising.
Graeme Smith, Managing Director at Amazon in Edinburgh, said, "We're very happy to be able to support Teenage Cancer Trust in their invaluable work with young people and families in our community who are fighting cancer. The charity provides vital facilities and expert care for those who need it most and we wanted to recognise their hard work and support them in any way we could."
Teenage Cancer Trust's East of Scotland Regional Fundraiser, Emma Vickerstaff, said, "We're incredibly grateful to Amazon for their generous donation. Our focus has always been putting young people first and providing vital care and support, to let them know they don't have to fight cancer alone. With this donation, we will be able to continue providing our services and helping more young people."
Miles Briggs, Lothian MSP and the Shadow Cabinet Secretary for Health & Sport said:
"I welcome the financial donation by Amazon Scotland to the Teenage Cancer Trust, to help support young people with cancer in Edinburgh.
"Teenage Cancer Trust does an excellent job caring for young people who are fighting cancer."
This activity forms part of the Amazon in the Community programme whereby the company supports communities in and around where it operates in the UK.