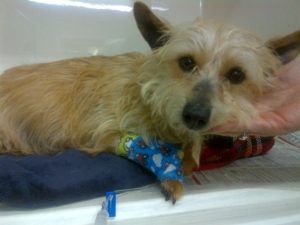 The Scottish SPCA is appealing for information after a sick and pregnant dog was found tied to a bin outside a veterinary  surgery in Bathgate.
Scotland's animal welfare charity was alerted on Saturday (14 May) when a member of staff from the Riverside Vet Surgery on Mid Street found the dehydrated Yorkshire terrier tied to a bin by a cable around her neck.
The dog was given immediate veterinary attention where it was revealed she was in the process of giving birth to a stillborn puppy.
Senior Inspector Stuart Murray said, "This was a horrific case of animal cruelty.
"The poor dog was freezing and dehydrated when she was found and shortly after she was taken into the vets she went into labour with a dead puppy.
"At this point she was given an emergency caesarean where it was discovered that sadly, the rest of her litter were dead.
"This dog was already in a very vulnerable position with being pregnant but to be dumped in this way is unbelievably cruel and callous. The distress she would have gone through is unimaginable and we are asking anyone in the area who has any information to call us.
"Thankfully she is now doing well despite her traumatic ordeal and has been offered a loving home by the vet who found her."
Abandoning an animal/causing unnecessary suffering is an offence under the Animal Health and Welfare (Scotland) Act 2006. Anyone found guilty of doing so can expect to be banned from keeping animals for a fixed period or life.
Anyone with information is being urged to contact the Scottish SPCA animal helpline on 03000 999 999.