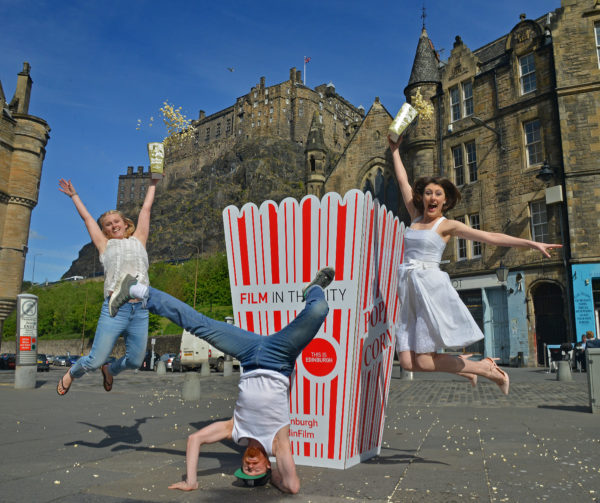 Films are big in Edinburgh this June with the Edinburgh International Film Festival taking place between 17 & 28 June and now some free outdoor cinema in the Grassmarket and St Andrew Square.
There has been some poor weather at outdoor screenings in recent years so we must hope that the weather gods are kinder this time round.  (nothing worse than soggy grass to sit on!)
On 6 & 7 June you can enjoy musicals including Mary Poppins, West Side Story and Dirty Dancing in the Grassmarket, where you can also get involved with dance workshops led by Dance Base teaching you how to boogie on down just like the stars of the films. And yes don't tell everybody but they are also going to show Mamma Mia!
This will be followed by films such as Indiana Jones, Willy Wonka, Guardians of the Galaxy, Life of Pi and Brave on 12 to 14 June in St Andrew Square.
Roddy Smith, Chief Executive of Essential Edinburgh said: "This is the fourth year we have brought outdoor screenings to St Andrew Square Garden, and as part of the This is Edinburgh campaign we have been able to expand this wonderful event to include the Grassmarket for the second year running.
"The outdoor screenings have always been incredibly popular and create an amazing buzz around the city in the run up to the world famous EIFF. When it comes to creating an atmospheric, cinematic backdrop, there are few places in the world that can compete with Edinburgh's city centre."
As well as the outdoor films the bars restaurants and retailers in the area will support Film in the City with a range of special offers.
You can join in by  recreating your favourite film moment in the capital using #MyFilmMoments on Twitter, Facebook, Instagram and Vine. The best entries will be shown at the film screenings and the winner will get two tickets to the VIP screening on the closing night of EIFF for Scott Graham's Iona on 28 June with entry to the EIFF closing night party.
No reserved seating at either venue so you are urged to bring a rug and a picnic and settle yourselves down for a cinematic treat or two. Some films later in the day may carry certificates making them suitable only for older audiences so the organisers ask you to check the certification for each film if you have younger children with you.
Film in the City screenings and times:
Let's Face the Music and Dance, Grassmarket, Edinburgh
Saturday 6 June
11.30 Happy Feet (U)
13.50 West Side Story (PG)
16.50 Grease 2 (PG)
19.15 Dirty Dancing (12)
Sunday 7 June
12.00 Mary Poppins (U)
14.50 Seven Brides for Seven Brothers (U)
17.00 Step Up (PG)
19.15 Mamma Mia (PG)
St. Andrew Square Garden, Edinburgh City Centre
Friday 12 June
17.00 Flash Gordon (PG)
19.00 Guardians of the Galaxy (12)
21.15 Raiders of the Lost Ark (12)
Saturday 13 June
10.00 Lilo & Stitch (U)
11.45 Brave (PG)
13.40 The Sound of Music (U)
16.45 Restless Natives (PG)
18.30 Life of Pi (PG)
21.00 Ghost (12A)
Sunday 14 June
11.00 The Pirates! In an Adventure with Scientists! (U)
12.50 How to Train Your Dragon 2 (PG)
14.50 Willy Wonka & the Chocolate Factory (PG)
16.50 The Princess Bride (PG)
18.50 Mean Girls (12A)
20.50 Batman (15)
For further details on all the Film in the City events and activity or to download the Edinburgh Movie Map visit: www.thisisedinburgh.com#EdinFilm #MyFilmMoments