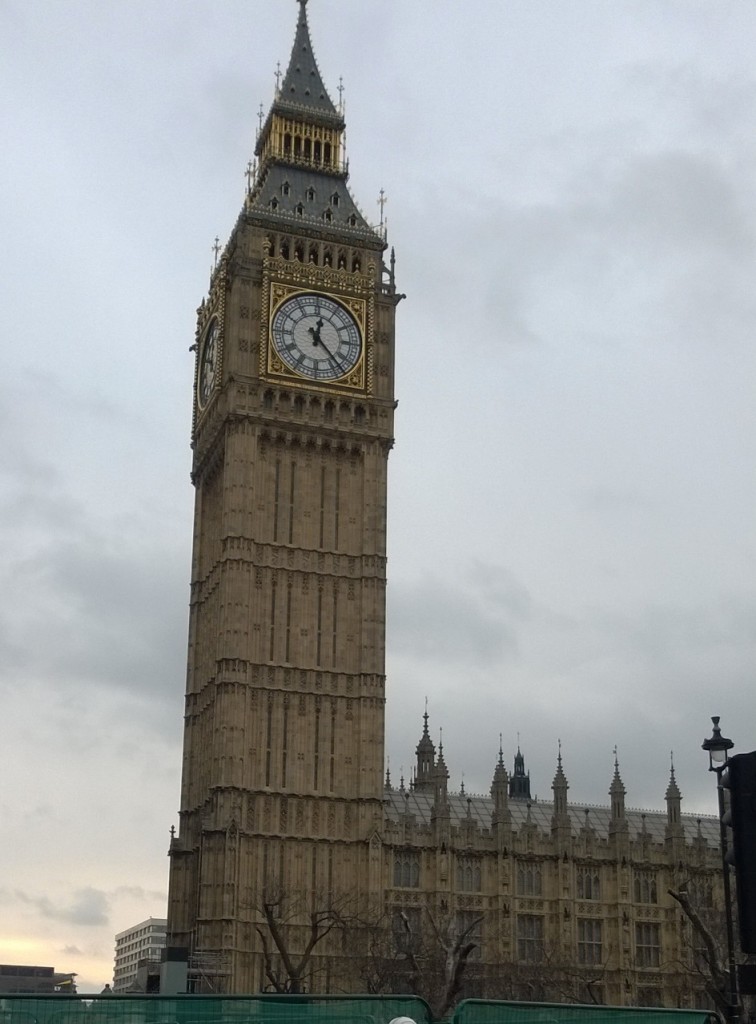 The Edinburgh Reporter's Mike Smith got married last week and spent part of his honeymoon in London. Clearly, he wasn't impressed…
It's been nearly ten years since I was last in the Big Smoke and, given my experience this week, it's likely to be at least another ten years until I return.
The train journey down on Sunday morning went pretty much as planned – apart from a ten minute delay at Berwick where the driver opted for a 'safety check' (according to the message broadcast, I assume, from the ticket collector) Whatever it was that was being checked – and I suspect we'll never know – we were on our way south after ten minutes so there wasn't any real inconvenience.
What was a bit of a pain, however, was East Coast's seating allocation. I had booked two seats on the 11.30am Edinburgh Waverley to London Kings Cross through the on-line (see what I did there?) ticket booking website The Trainline.com. When one books two seats one might expect these seats to be together. My wife Marion was in an aisle seat in front of me. When we arrived in York, another couple had the same experience so we agreed to split the four seats between us so at least we were sitting alongside our loved ones rather than sitting behind them…
London itself  – or rather some of the people  – didn't impress me. I had booked our stay at a well known hotel chain and looking at a photograph of a large hotel in London's Docklands area, I was sufficiently impressed to book two nights there. However, when we arrived – having paid a small fortune for the taxi journey – we were told we weren't actually booked into this hotel but rather the smaller one a five minute walk away. When I say smaller, I mean minute – the room had space for a bed and not much else, the 'bathroom' was a small cupboard with a shower that meant you had to breathe in to close the door and the facilities were very basic. The view from the bedroom window afforded us detailed imagery of the rubbish bins at the back…
Public transport was laughable. The London Docklands Railway (LDR) ran adjacent to our hotel but getting to central London meant changing from a LDR train to a London Underground train and considerable inconvenience. Going by bus would have meant three changes – and London buses no longer accept cash (get yerself an Oyster Card, mate…) They do accept Visa Debit cards – but only one card per passenger.
Attempting to see some of the sights, we booked a Golden Bus tour.  They advertised that they came out to London's Docklands district every 20 minutes. Grand, we thought. Except on Monday morning, we waited close to the Excel Centre for a bus that never arrived. We made two phone calls to the company; firstly, we were told the next bus due would be in 30-40 minutes; after an hour and no sign of a bus, we phoned again to be told it would be another 15-20 minutes. Cold, tired and totally scunnered, we jumped into a taxi and headed into town.
Which brings me to my next gripe. London taxi drivers. The only thing I can say about them is that at least Dick Turpin wore a mask…
We spent Monday evening at the London Palladium watching the stage show Cats. The show was very good, slick and professional – but the staff at the theatre were less so. Several dozen patrons were kept outside in a night of pouring rain as we waited half an hour for the doors to open – which they did less than half an hour before the show was due to start. The ushers were less than helpful and if one wanted assistance to find one's seat then they would be in for a big disappointment.
Overall, our experience of London was not a good one. Rude, pushy, unhelpful people, a public transport system that assumes visitors know how it works and a Del Boy character who was selling tickets for shows at greatly inflated prices.
We were only there 48 hours but it was such a joy to return to Edinburgh on Tuesday evening. The taxi driver who drove us from Waverley Station to Leith was pleasant, chatty – and didn't try to rip us off. Had it been a London equivalent, I suspect our journey from the station to Leith would have encompassed Dalkeith, Musselburgh and Portobello…..
There's a line in the Monty Python film The Life of Brian where the question is asked 'What have the Romans ever done for us?' Well, they built London. I have to say, given our experience this week, I wish they hadn't bothered…