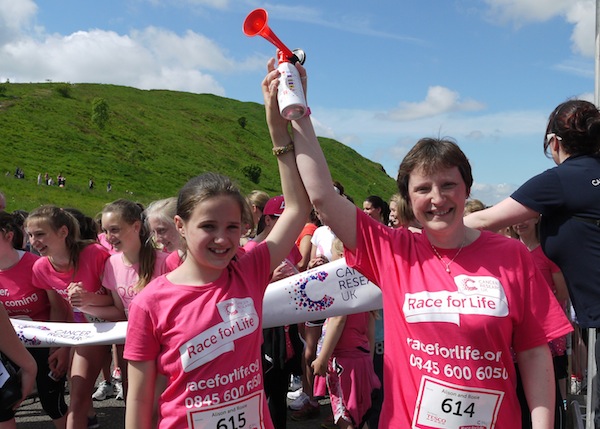 5,600 PINK LADIES RACE FOR LIFE IN HOLYROOD PARK
THOUSANDS of women formed a sea of pink through Edinburgh on Sunday, raising life-saving funds for Cancer Research UK.
An amazing 5,600 women – including cancer survivors and people taking part in memory or celebration or their loved ones – united for 5k and 10k events at Holyrood Park.
Among them was courageous Edinburgh woman Alison Brown, a breast cancer survivor who took part in the 5K event with her 11-year-old daughter Rosie.
The pair sounded an air horn to start the event at 11am and set off the formidable army of women who set off on the race.
Hamish Moir, Race for Life event manager for Edinburgh, said:- "The support we have received in Edinburgh has been absolutely tremendous and we are thrilled that so many women entered Race for Life here.
"We want to say a heart-felt thanks to everyone who took part or supported our participants, as well as the wonderful volunteers who helped make it happen.
"Now the big day is over, we are asking our supporters to take one last step – by returning the money they have raised so that we can go on funding much needed research."
Last year, participants in the Edinburgh events raised an incredible £413,000. Organisers hope that this year Race for Life supporters will be just as generous and raise even more for life saving research.
Alison Brown took part in the 5K event for the second time with her 11-year-old daughter Rosie after giving an inspiring speech from the stage, explaining how cancer has affected her and wishing the participants well.
Alison, aged 48, who was diagnosed with breast cancer on Hogmanay 2010, said: "It was an honour starting the Race and saying 'good luck' to the thousands of women who came along.
"So many of the ladies who come along have had a cancer experience of their own and seeing all the 'back signs' that women wear at the event, declaring why they are taking part, was really emotional.
"But it was also a lot of fun being there. This was our second year taking part in Race for Life and we loved every minute of it. Being part of a group of women who are so determined to beat cancer was just brilliant.
"I was so glad to be able to give something back and help Cancer Research UK scientists as they are doing so much to understand cancer and to come up with better and kinder treatments."
Race for Life, in partnership with Tesco, is an inspiring women-only series of events which raises millions of pounds every year to help defeat cancer by funding life-saving research. It's non- competitive, and women can choose to jog, run or even dance their way around the course if they prefer.
Thanks to the generosity of its supporters, Cancer Research UK was able to spend over £4 million last year in Edinburgh on some of the UK's leading scientific and clinical research.
The city is home to the Edinburgh Cancer Research UK Centre where scientists focus on bowel, breast and ovarian cancers, as well as developing new research programmes into other common cancers – aiming to help improve survival for people with cancer as quickly as possible.
Cancer Research UK receives no government funding for its ground-breaking research but with help from the people of Scotland, the charity intends to bring forward the day when all cancers are cured.
Event manager Hamish Moir added: "As the number of people diagnosed with cancer in Scotland continues to rise, we need the support of local people now more than ever.
"I feel so proud and grateful to everyone who supports Race for Life in Edinburgh. What better way to fight back against cancer and show it who's boss than by raising funds to beat the disease."
There is still time to enter Race for Life events in Kirkcaldy, Dundee and Aberdeen at raceforlife.org or by calling 0845 600 6050.