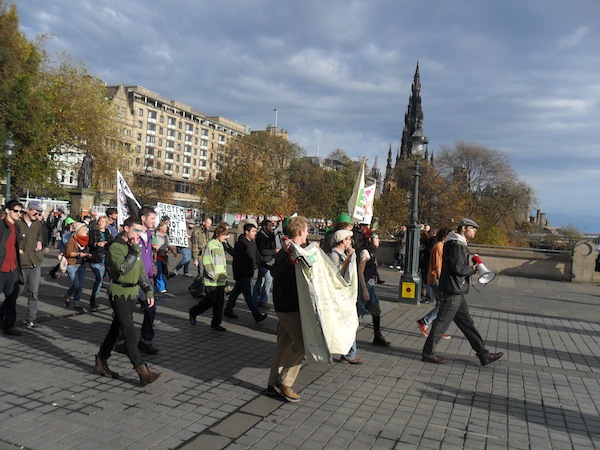 Approximately 80 members of Occupy Edinburgh and their supporters marched through Edinburgh calling for the introduction of a 'Robin Hood ' tax.
The protesters, many of who have been camping in St Andrew Square for the last fortnight, marched along George Street, Princes Street and the Mound. The marchers stopped for a brief rally at the foot of The Mound before finishing with a protest outside the RBS headquarters.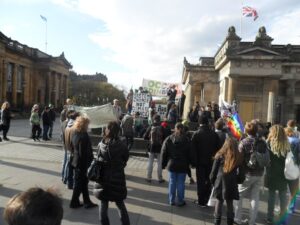 Among those donning outlaw gear for the protest was 22 year-old Edinburgh Napier student, Eric Nelson. Originally from Boston, Massachusetts, Nelson found inspiration from events in his home country. Indeed his mother has been heavily involved with the Occupy Boston movement.
On today's march, which was one of hundreds around the globe to raise awareness, Nelson is convinced that some form of Robin Hood tax is vital. Nelson said :- "The Robin Hood tax is a very good first step in the redistribution of wealth and taking that complete power the 1% has over the 99% has to offset it a bit.
"It's a first step in thinking about a new system. We have to accept that the current system does not work and have a complete overhaul.  We need to take the monetary system down and, through consensus, find a system that works for us. "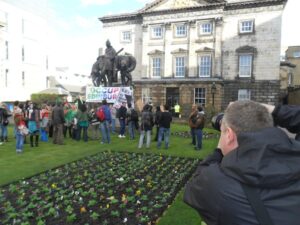 During today's march it was hard not to notice many calls from members of the public to 'get a job'. Nelson is acutely aware of the image problem the group has. Nelson said:- "Right now the public perception seems to be that we are hippies with no jobs. "
However Nelson and his fellow campaigners are determined to stick it out and turn opinions around. He said:- "Complacency is a huge problem, ignorance is our biggest enemy. The combination of complacency and ignorance, how people are more than happy to be ignorant, how people refuse to address the issues; we are here to make them see that these are problems they can't ignore."
Nelson feels that part of the problem with public perception lies in negative media coverage. He is at pains to point out that the movement covers a broad spectrum of views and is not merely an ant-capitalist group.
Nelson said:- "One thing  I really don't like about the media coverage of occupation  movements is that it is being branded as anti-capitalist. I cannot stress this enough; we are not anti-capitalist – we are clearly not pro capitalist but we are not necessarily anti. There are many forms of capitalism – we live in a society of consumer capitalism, and yes we are against that because it doesn't work for us. We want to change the system and that could come in the form of another type of capitalism. "