by Sunnah Khan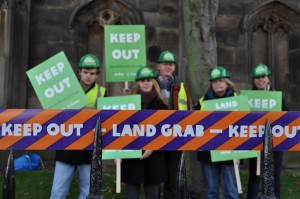 Oxfam campaigners rallied together outside Edinburgh's St John's church today to raise awareness about the issue of land grabs in third world countries as part of their bigger campaign GROW: an ongoing campaign attempting to highlight and address ways of overcoming global food poverty.
The campaign focuses specifically on land grabs in Uganda where Oxfam carried out investigations this summer and published a report last month which detailed how at least 22,000 people were found to have been evicted, some violently, off their land without consent or compensation in order to make way for the UK-based New Forests Company (NFC) plantations.
Following the report, this week saw the Forest Stewardship Council (FSC) filing a compliant against the body who certified the NFC. "The FSC complaint to its certifiers shows clearly that they too have concerns that something went wrong in Uganda," said Katia Maia, head of Oxfam's Grow campaign.
The aim then is to put pressure on such companies to act ethically. Adam Butler, Oxfam's campaign organiser in Edinburgh said: "Oxfam is not against companies buying land. Investment can be a good thing however our governments and the governments of those countries must make sure they are acting responsibly so that when land is bought it is not done in a way that harms the interests of the poor, especially for those that currently depend on that land to farm, harming the ability of the people of that country to produce food."