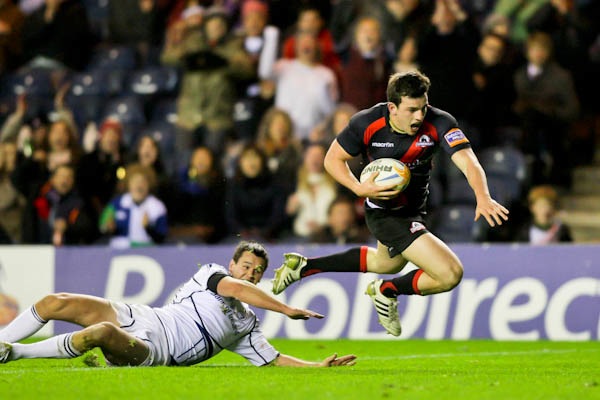 Friday night's match in Round 7 of the RaboDirect PRO12 League saw Edinburgh boosted by the return of five International players to the starting line-up. Visitors Leinster, current Champions also had a few returnees, so it looked like a good match in prospect for the 3,500 spectators.
It took the hosts four minutes to score the first points, after securing ball from a turn-over in their own half, with a Greg Laidlaw penalty. However, Leinster only took 3 minutes to draw back level, Jonny Sexton being the scorer, with a penalty kick awarded for off-side in the Edinburgh 22 – a repeated infringement which was to cost Edinburgh by the end of the match. He followed this up with another penalty 10 minutes later to put Leinster in the lead 6-3.
17 minutes into the game, an inside ball from Laidlaw to Tim Visser, saw the big Dutchman crash through the visitors defence to score the first try of the evening, and, with Laidlaw converting, the hosts were now 10-6 up. Again, Leinster struck back almost immediately with another penalty from Sexton, followed up on the 25 minute mark, by scrum-half, Isaac Boss 'fell' through a big hole in the Edinburgh defence to put Leinster 16-10 ahead. A trade of penalties before the interval saw the half time score 19-13 in favour of the visitors.
The second half started well for the Edinburgh side, with Visser again crashing through tackles, and both Kearney brothers to score Edinburgh's, and his, second try of the match. With Laidlaw converting, Edinburgh now lead by the one point, 20-19.
After another exchange of penalties a deep penetration into the host 22 had the ball out to Leo Auva'a, who had an easy couple of strides to the line for try in the corner.
By the 74th minute, Leinster had stretched away to a ten point lead before Matt Scott (pictured) was put through to score following some incisive running by Nick de Luca, and with Laidlaw missing the conversion, the score stood at 33-28 to Leinster. A late penalty, however, and a bit of creative time wasting, put the Eire men 36-28 ahead with only ten seconds to go.
With a gathered kick-off, Boss stuck the ball in the crowd to end the match Leinster 36, Edinburgh 28.
Overall a better performance from the Edinburgh side, but too many penalties given away probably lost them the game and the Capital side are now languishing in eleventh place in the RaboDirect league, four points ahead of Aironi and with only two wins from seven. Not so good.
RaboDirect Man-of-the-Match was again Tim Visser – who qualifies for Scotland (on residency) next June
Edinburgh's next home match is in the Heinekin Cup against French side, Racing Metro 92, and given French side's legendary lack of form away from home, hopefully they can manage a home win.
Report and Photo – John Preece
Web – http://www.photoboxgallery.com/jlp-photography