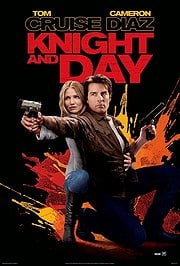 Dominion cinema. Tucked away from the madding crowds on Newbattle Terrace in Edinburgh this is an independent family-owned cinema much loved by many Edinburgh residents.
This weekend you have a choice of the following:-
Cats and Dogs The Revenge of Kitty Galore (U) 1.00 2.50 and 4.55
Inception (12A) daily at 4.40 and 7.50
Heartbreaker (15) daily at 7.10
The Karate Kid (PG) daily at 1.40 4.20 and 7.00
Knight and Day (12A) daily at 3.20 5.45 and 8.20
The Twilight Saga – Eclipse which shows daily at 1.50
Shrek Forever After (U) daily at 1.20
So what do we recommend for you? Well The Reporter has seen Cats and Dogs which is very amusing for adults too with its slick one-liners. Roger Moore is the voice of the cat called Lazenby… and Bette Midler is the voice of the baddie cat Kitty Galore. It is fast moving and the story is easy enough for kids of all ages to follow. It's not really rated yet as it is only newly released. But we liked it!
Knight and Day is apparently 'middle of the road summer action' according to Rotten Tomatoes and so far has 54% approval rating. But it has Tom Cruise and Cameron Diaz, an endearing mix. Did you see them on Top Gear together? Weren't they fun?
But if you are child-free and did not take up our recommendation last week then you really should go and see Heartbreaker starring Vanessa Paradis. Still a massive 88% rating from Rotten Tomatoes. Rich man hires people to break up the relationship of his daughter and someone he considers unsuitable.
Booking Line Tel 0131 447 4771
[googleMap name="Dominion Cinema" width="400″ height="400″ directions_from="true"]18 Newbattle Terrace Edinburgh[/googleMap]