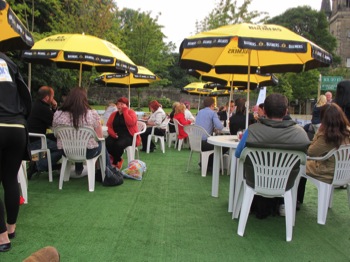 We will be candid here. The invitation to come along to the Festival in The Sky departure lounge was a freebie. So that might have coloured our opinion – except it would have taken more than two (plastic) glasses of Bulmers cider (flat) to do that.
The Festival in the Sky has been billed as the most way-out experience you might have this Festival. Well maybe it might be, but at £62.50 a pop you would expect a bit more than being strapped into a seat at a table, hoisted about a hundred feet into the air and then fed something that a chef can make (and you can eat) all in less than half an hour. Talk about fast food… Even though it was Tony Singh from Oloroso who was cooking…how good can the food really be?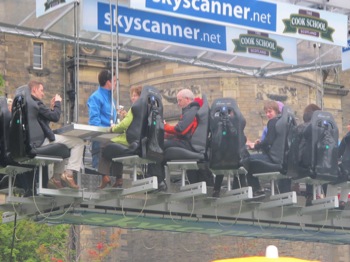 The Reporter could have had the chance to go up for £20.00 courtesy of Itison the events people, but declined gracefully. It just didn't seem worth the bother. It certainly was not worth the bother for the Festival in the Sky hosts and hostesses to even speak to you on arrival. The eternal personal conversation, so much the bane of all our lives, had to be finished first. The girl at the arrivals desk then had three attempts at listening to the names given and correlating that to the list in front of her.
No-one really took the time or trouble to explain what was going on, and one got the feeling that if this was America everything (for once) would be so much better. Certainly the idea is a good one, but the execution leaves a lot to be desired.