The latest figures detailing the number of people diagnosed with Covid-19 in the last 24 hours in Scotland have been announced. Figures from yesterday show that over 100,000 people in Scotland have tested positive for Covid-19 since the pandemic began.
The next weekly review of restrictions in all 32 Scottish local authority areas will take place next Tuesday when the First Minister will announce any changes after a meeting of the Scottish Cabinet. Until then the City of Edinburgh Council area remains in Level Three.
The First Minister explains that the government will continue to take a cautious approach and that as well as numbers of positive cases, social and economic harm is also part of considering any changes to local authority levels.
The First Minister is joined at St Andrew's House by Interim Chief Medical Officer Dr Gregor Smith and Jeane Freeman the Health Secretary. Ms Sturgeon says that she visited the Western General this morning to meet those who will be administering the vaccine. At probably around the same time the Duke and Duchess of Cambridge, or the Earl and Countess of Strathearn as they are known in Scotland, arrived on the Royal Train at Edinburgh Waverley at 9.19am to begin a UK tour to thank those who have been working to treat those with Covid-19.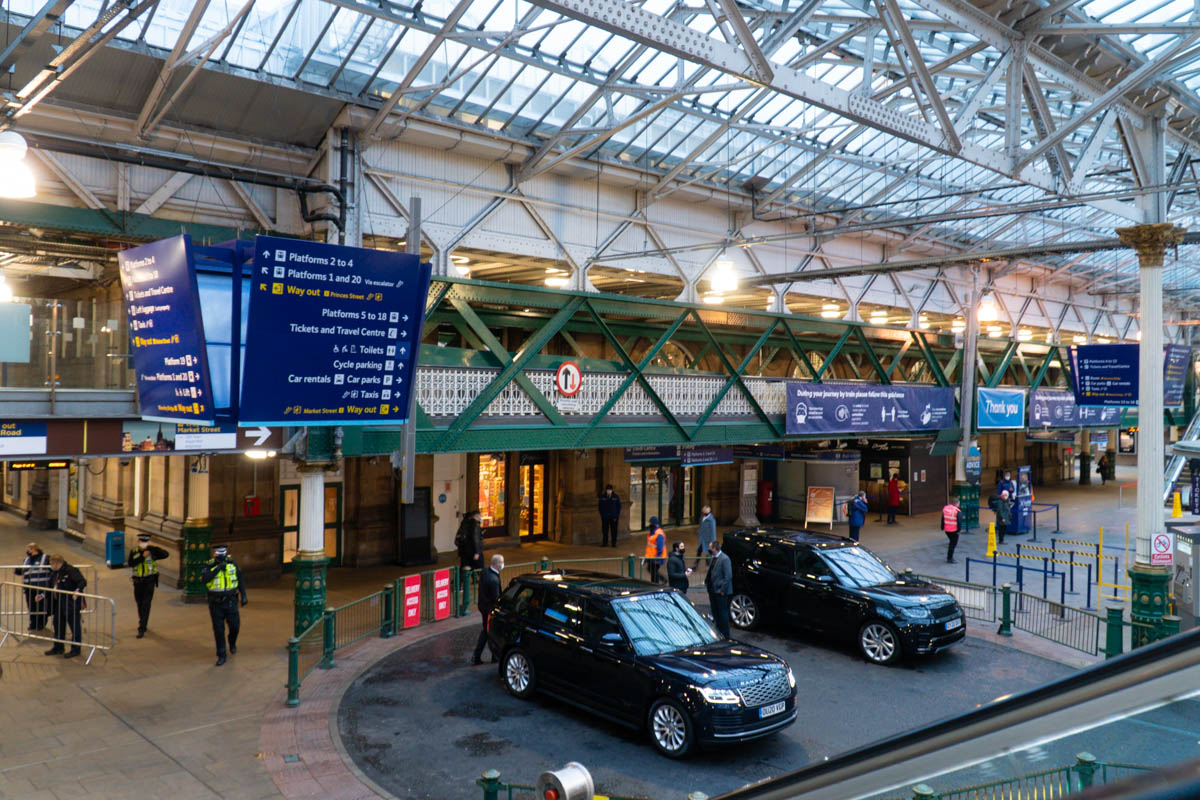 She also says that the prevalence of the virus has reduced in recent weeks. The World Health Organisation says that the level at which it is thought the virus is under control is around 5% of those tested.
The figures in Scotland as at 7 December 2020 are as follows:
677 new cases of Covid-19 reported which is 6.7% of these newly tested with 114 of those in the NHS Lothian area and 178 in Greater Glasgow & Clyde health board area
1 newly reported death have been announced today of people who have tested positive within the last 28 days. (But remember that weekend numbers can be underreported as registry offices are closed)
59 people were in intensive care yesterday with recently confirmed Covid-19 which is 3 fewer than yesterday
974 people were in hospital yesterday with recently confirmed Covid-19 which is 23 more than yesterday
The total number of positive cases in Scotland has risen to 100,783
The number of deaths under this measurement is now 3917 and since Friday 28

deaths

have been recorded
National Records of Scotland announced their weekly figures on Wednesday stating that the total number of Covid-19 related deaths to 29 November 2020 is 5,634. This figure is calculated on a wider definition of deaths relating to Covid-19 than the daily figure reported by The Scottish Government.
You can also see the latest numbers laid out visually on the Travelling Tabby website here. It is updated at 3pm daily.