The newest additions to the Scottish Black Lives Matter Mural Trail were unveiled in Edinburgh earlier today.
Kirkcaldy artist Abz has created striking colourful and thought provoking posters – including one referring to Sheku Bayoh who died in 2015.
This is 5.5 metres by 6.5 metres and is bigger than anything the artist has done before. She works as a tattoo artist, but the art she has produced here reflects her Scottish/Jamaican heritage and her self identity as a 'queer artist'.
Abz told us that she is used to creating special personal pieces of art. She has always wanted to be an artist, and wanted to be a cartoonist when she was younger. She said : "This series, the representation project and the piece for Black Lives Matter were created from the heart. It was from repression suffered by my ancestors who couldn't speak up because they are black and brown."
She says that during the Coronavirus lockdown she has been taking a break from work which allowed her time to devote to this project.
The Scottish Government has just agreed to a public inquiry into his death in policy custody. Aamer Anwar, lawyer for the Bayoh family said: "The family of Sheku Bayoh and his partner Collette are deeply grateful to the artist for this mural which encapsulates for them their long struggle for justice & truth.
"It's time that those who fly the banner of #BlackLivesMatter realised that there are also many George Floyds in the UK and their families need your support."
The newest additions to the Scottish Black Lives Matter Mural Trail created by artist Abz were put up outside the @theusherhall earlier today – One part calls for justice for Sheku Bayoh pic.twitter.com/pDOyHh02mG

— Edinburgh Reporter (@EdinReporter) July 15, 2020
Cllr Donald Wilson the Culture and Communities Convener said: "This is hugely significant, not just culturally and artistically significant. It is in one of the most visible places in the city and will be seen from the road and by anyone walking past the Usher Hall. It is very high profile and this is a colourful and artistic statement of an injustice.
"For me it is all about education. There's a huge reeducation involved here and it is about retelling the past by the values that we now hold dear in the present."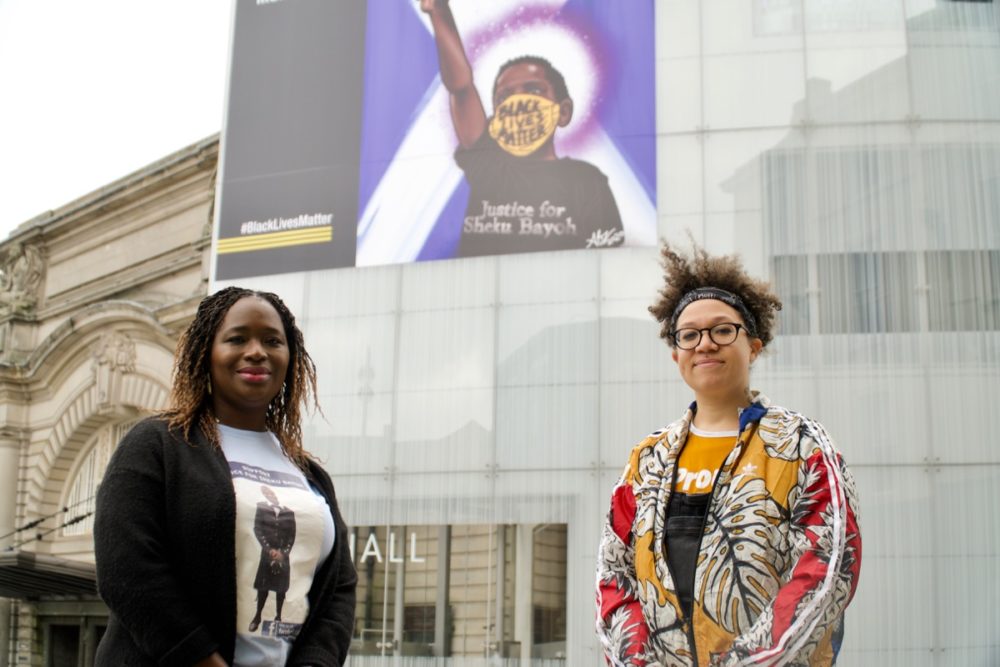 Abz's work joins The Neon Requiem's 3 portraits of the female inspirations in his life – The Healer, The Nurturer and the Teacher, on display round the corner at the Lyceum Theatre, and text contributions by Annie George at The Traverse Theatre, making a remarkable cluster of creative activity by BAME artists/writers.
Tomorrow you can expect the next addition to the trail on the outside of the Playhouse.