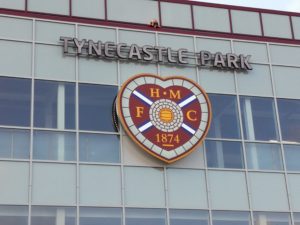 The SPFL today announced the fixtures for the 2018/19 season. Hearts will begin their Ladbrokes Premiership campaign with a trip to Hamilton Academical on Saturday 4th August before entertaining league champions Celtic the following weekend.
The first Edinburgh derby of the season comes on a Wednesday when Hearts take on Hibernian at Tynecastle on Halloween. This will come as a disappointment for some younger fans who may not be able to attend one of the biggest games of the season on a school night, as well as those Hearts and Hibs supporters living outside the capital who won't be able to make the trip.
Edinburgh City will begin their Ladbrokes League Two campaign with a home game against relegated Albion Rovers before travelling north to Elgin a week later.
Hearts fixtures for the season are below (source: www.heartsfc.co.uk) although several fixtures are liable to change due to live television coverage.
Date Opponent Time
4/8/18 Hamilton Academical (A) 3pm
11/8/18 Celtic (H) 3pm
25/8/18 Kilmarnock (A) 3pm
1/9/18 St Mirren (H) 3pm
15/9/18 Motherwell (A) 3pm
22/9/18 Livingston (H) 3pm
29/9/18 St Johnstone (H) 3pm
6/10/18 Rangers (A) 3pm
20/10/18 Aberdeen (H) 3pm
27/10/18 Dundee (A) 3pm
31/10/18 Hibernian (H) 7.45pm
3/11/18 Celtic (A) 3pm
10/11/18 Kilmarnock (H) 3pm
24/11/18 St Mirren (A) 3pm
1/12/18 Rangers (H) 3pm
5/12/18 St Johnstone (A) 7.45pm
8/12/18 Motherwell (H) 3pm
15/12/18 Livingston (A) 3pm
22/12/18 Aberdeen (A) 3pm
26/12/18 Hamilton Academical (H) 3pm
29/12/18 Hibernian (A) 3pm
23/1/19 Dundee (H) 7.45pm
26/1/18 St Johnstone (H) 3pm
2/2/19 Kilmarnock (A) 3pm
6/2/19 Livingston (H) 7.45pm
16/2/19 Motherwell (A) 3pm
23/2/19 St Mirren (H) 3pm
27/2/19 Celtic (H) 7.45pm
9/3/19 Dundee (A) 3pm
16/3/19 Hamilton Academical (A) 3pm
30/3/19 Aberdeen (H) 3pm
3/4/19 Rangers (A) 7.45pm
6/4/19 Hibernian (H) 3pm
Post-split fixtures:
Game 34 – 20/4/19
Game 35 – 27/4/19
Game 36 – 4/5/19
Game 37 – 11/5/19
Game 38 – 18/5/19