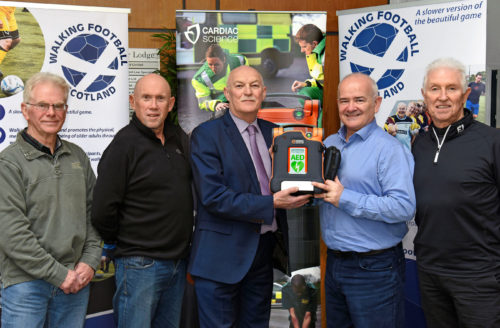 Walking Football Scotland is delighted to be working with new Commercial Partners Cardiac Science.
The company has generously gifted WFS a state-of-the art Powerheart G5 Automated External Defibrillator (AED) that will be available at WFS events in the future.
In addition members of Walking Football Scotland are being offered a discount of £120 off the full cost of buying an AED for their own club/group.
AEDs are specifically designed for non-medically trained people to use in the case of Sudden Cardiac Arrest (SCA) which kills more people than all other diseases combined.
Sudden Cardiac Arrest can happen to anyone, at any time and at any age with older people, particularly those exerting themselves during exercise, being at more risk. The Cardiac Science defibrillator will be a life-saving addition to WFS events and competitions.
The AED is easy to use, self-maintaining and will only work if the victim is in SCA., as the defibrillator works by delivering an electric shock, through adhesive pads, placed on the person's chest. This will usually convert the victim's heart arrhythmia into a normal rhythm and thus is a life-saving device.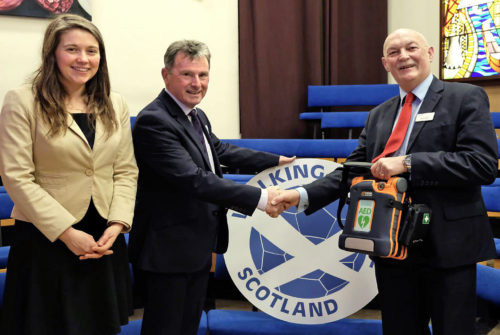 Walking Football Scotland Chairman Gary McLaughlin said: "Although we hope never to use this state of the art device. I am delighted that Cardiac Science has offered to support Walking Football in Scotland; the gift of this G5 defibrillator with the benefits it brings for us and our member groups is simply amazing. To know we have our own defib at events is fantastic."
Steve Jelfs said: "Both myself and Cardiac Science are delighted to be able to support Walking Football Scotland with this life-saving donation. Every week in Scotland 70 people will have a sudden cardiac arrest. Currently only four of these 70 people will survive to go home to their families. By implementing AEDs in every aspect of society, and by the public learning CPR, we can increase this survival rate considerably."
WFS will be able to offer the defibrillator to be available at walking football events and intends to set up training courses on how to use the defibrillator and CPR classes across Scotland.
In partnership with Cardiac Science, Walking Football Scotland is offering its member clubs a special offer in respect of purchasing their own AED.
The Powerheart G5 AED is a state-of-the art device combining:
Simple operation for infrequent minimally trained rescuer.
The G5 is built to last with an 8 year warranty and medical grade battery with a four year unconditional replacement guarantee, (we will replace it free of charge if it runs out any time before the four year period).
It has a large text screen that duplicates the voice instructions, making it easy to use in a noisy environment or by hearing impaired rescuers. The text screen also presents key information to the emergency services (number of shocks delivered and rescue time).
Variable escalating energy from 95 Joules to 354 Joules.
The outer case is a vivid orange to ensure visibility and constant awareness.
Rigorous self-check regime; daily, weekly and monthly checks pad presence/capability, battery capability and internal circuitry/software.
Robust construction, with a drop test of 1.22 meters and the highest possible IP 55 rating for moisture and dust.
Available in both semi-auto and fully automatic operation.