Edinburgh Police launched an appeal this morning for information to help them trace missing Finnish tourist Riina Elisabeth Sjögren one week on from her last sighting at York Place tram stop. They also provided us with some more detail of her movements last week which you can follow below.
The 38-year-old was last seen on Tuesday 9 January 2018 when she arrived in York Place at around 10.20pm. Her whereabouts before that involve a couple of sightings at Edinburgh Airport and at Gogar tram stop. She left her belongings in a purple rucksack at the airport, including her passport.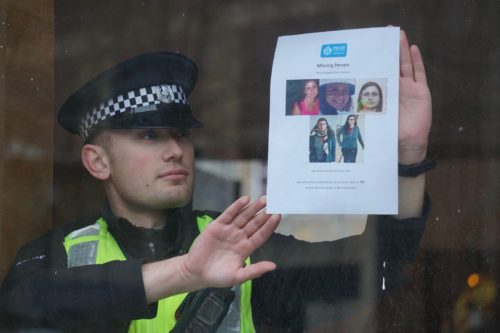 Chief Inspector Stevie Sutherland told us this morning that most of what they know about Riina Elisabeth Sjögren has come from CCTV footage. He said : "Leading up to the last sighting we have we know Riina was at Edinburgh Airport. She pretty much spent the day at Edinburgh Airport. She actually purchased a ticket there to travel to Amsterdam, but she didn't board the plane.
"She thereafter left her personal belongings and later on that evening left the airport, walked to Gogar where the was seen at the tram stop at about 8.30 at night. So if anybody at all got the tram last Tuesday night about that time at Gogar please come forward. Even if it is only a suspicion that it was the same person please call the police on 101.
"She boarded that tram and got off at about twenty past ten here at York Place. The last piece of CCTV footage we have is of her facing Edinburgh Playhouse and the Omni Centre but the rest of that is now a work in progress."
There have been no sightings of her since then.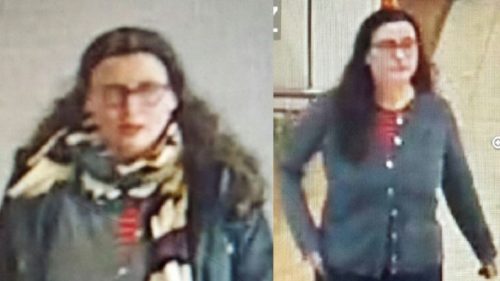 Timeline

Riina arrived in London on 6th or 7th January 2018 where she stayed in a youth hostel in Carter Lane.

She then took a train to Edinburgh and arrived in the capital sometime on Monday 8 January 2018.

On Monday 8 January 2018 Riina stayed overnight in Edinburgh but the police don't know where. She travelled to Edinburgh Airport and spent some time there that day. She appears to have returned to the city centre.

On 9 January 2018 at 4.55 am in morning Riina went to airport on the Number 300 bus. She got on at Easter Road according to her ticket.

She then bought a ticket to Amsterdam and proceeded through security but left her personal belongings there including her coat, phone, laptop and passport. She then left Edinburgh Airport around 8.30 pm and walked to Gogar tram stop where she got on a tram towards the city centre.

The last sighting of Riina was on Tuesday 9 January 2018 at 10.20pm when she got off the tram at York Place tram stop. She was only wearing a blue cardigan, dark jeans and walking boots.
Riina spent some time in Edinburgh some years ago, and Chief Inspector Sutherland suggested that might be a positive thing as she may know this area quite well. But he continued : " All we know is that she came up from London on 6 January and then on the Monday she actually went into Edinburgh Airport. She spent some time there but then left again of her own accord."
The police do not believe that she has any contacts or friends in Edinburgh but she is what Chief Inspector Sutherland described as 'an accomplished traveller' used to travelling alone who speaks various languages including English, Finnish and Hebrew. They do know that she was at Edinburgh Airport and Edinburgh Castle and that she alighted from the tram at the final stop in York Place.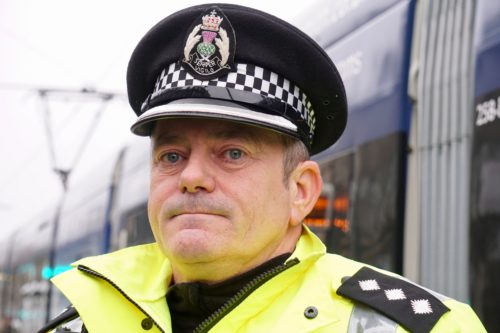 He explained the police are now in regular contact with Riina's family who have suggested she may not have been quite herself when they saw her at Christmas time. They were unaware that she had travelled to Edinburgh.
Riina Elisabeth Sjögren is described as 38 years-old. She is 5'3″ in height, has long dark brown hair and wears round-framed spectacles. The last time the police spotted her she was wearing a blue cardigan, dark jeans and walking boots. It appears that she left her coat at the airport.
Chief Inspector Sutherland explained that the police are quite concerned. He concluded : "We are concerned about the fact that her family said that she has been out of sorts. Her mental health does not seem to be as good as it would normally be and her family has said that she was just not herself at Christmas time."
Riina's family have not yet made any plans to come to Edinburgh as yet, but the police has said that they would be most welcome and confirmed that Edinburgh Police are in contact with both her family and the Finnish consul. They also have a Finnish interpreter who is helping them speak with her family.