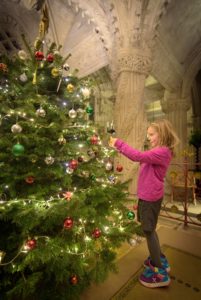 Dalkeith Country Park has got into the spirit of Christmas by providing real Christmas trees to two local communities in Midlothian. Rosslyn Chapel and Woodburn Primary School have both received a Nordmann Fir tree from the pop-up Christmas tree shop at Restoration Yard.
Julie Merrilees, Visitor Services Manager at Dalkeith Country Park, said: "We were delighted to be able to donate the Christmas trees to help bring some extra festive cheer to local organisations.
"We were especially proud to see how amazing our tree looked in the beautiful setting of the iconic Rosslyn Chapel. We'd like to thank everyone who got in touch to enquire about a donation this year.
"Anyone wishing to enjoy one of our lovely trees in their own home can visit our pop-up shop."
Ian Gardner, Director at Rosslyn Chapel Trust said: "The tree looks spectacular in our chapel now we have adorned it with an array of festive decorations.
"We always receive lots of compliments for our Christmas tree and are sure this year will be no different. The Chapel is open to visitors all month and, as a working church, Christmas is a very special time of year here. We'd like to thank the team at Dalkeith Country Park for their very kind donation."
The pop-up shop has various Nordmann Fir trees, which were grown in Stirling, from five to seven feet high. From 16th December, the shop will be open every day until Christmas Eve.
Restoration Yard Store, Café, Wellbeing Lab and Fort Douglas continues to be open seven days a week for Christmas shopping, lunching and playing.
Further information on events at Dalkeith Country Park is available here.