Hibs' midfielder Marvin Bartley will raffle off several items of sporting memorabilia in the weeks leading up to Christmas in aid of the victims of the tragic Grenfell Tower.
Fans will be able to enter the draw by donating a minimum of £5 towards the campaign.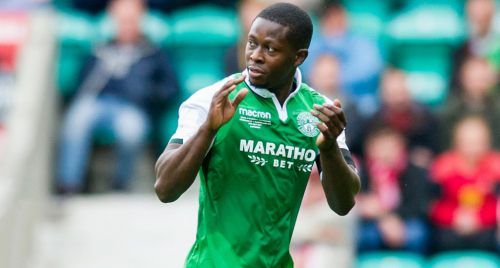 Items include autographed boxing gloves from Anthony Joshua, a  signed Hibs jersey from the testimonial of Hibs legend Lewis Stevenson and a signed Manchester City jersey, courtesy of on-loan winger Brandon Barker.
Bartley said: "Everyone knows about the fire that happened at Grenfell Tower. For me it's a very touching story. I watched it all on the news and a guy came on who had lost his home and one of his children. It just made me think it could have been any one of us in that position.
"You go to bed thinking everything is fine and you wake up in the morning and your house has gone and you have lost a family member. People's lives there will never be the same and they are still struggling now.
"If life had turned out differently I could have been living in one of the high rise flats as an adult. I'm quite lucky that I have played football.
"I know someone who actually lived in there through a friend of a friend.  It has been difficult, families have been uprooted, kids have had to move schools. It has been such a sad state of affairs.
"A lot of my friends in sport have helped me by signing stuff.
"Harry Arter at Bournemouth has helped, Charlie Austin's helped me, Kevin Long's helped me. Brandon Barker here has got me a signed Manchester City shirt and Anthony Joshua has donated signed gloves.
"No-one I asked to sign something said no. Everyone has pulled together. For them it's a small thing, signing something but if we can auction it and get some money we can make someone else happy. That's what we are aiming to do.
"I'll try and go down as close to Christmas as possible. It's a time of year when people should be happy and this will be the first Christmas since it happened, so I'll try and help. We are trying to make things better for the kids.
"It's not too far away from where I grew up.  I just wanted to help. If we can make just one person smile who has been affected by this then job done.
You can donate to Marvin Bartley's campaign here.