Lothian has unveiled a striking new design for its annual 'Poppy Bus' to mark Remembrance Day 2017.
This year's the design takes a modern turn and features a creative of cascading bright red poppies set against an all-white background.
The bus will run on various routes throughout Edinburgh and the Lothians during November, so see if you can spot it.
The bus was launched to the public today next to the Field of Remembrance in Princes Street Gardens and will be back to mark the two-minute silence on 11 November.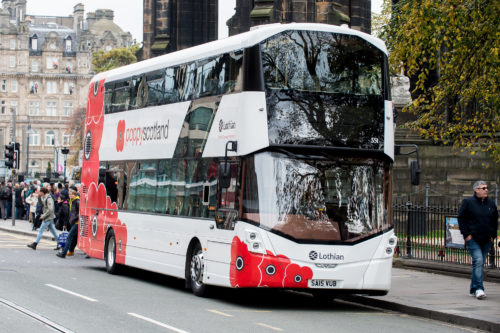 Lothian invited former service personnel who now work for the company and representatives from Poppyscotland to be amongst the special bus's first passengers as a special treat.
Gordon Michie, Head of Fundraising at Poppyscotland, said: "We are delighted to once again have such extensive and visible support from Lothian Buses. The bus wrap is stunning and it is extremely heartening to see every single bus in the Lothian family in and around Edinburgh displaying poppies. As the fleet travels many miles over the coming fortnight, we hope it will encourage and inspire the public to go the #ExtraMile in their support of this year's Scottish Poppy Appeal."
As well as the specially created 'Poppy Bus', each vehicle in the Lothian fleet, including East Coast Buses and Edinburgh Bus Tours, will be decorated with an individual poppy vinyl in partnership with Poppyscotland. The company will also fundraise internally by making poppies and wooden crosses for planting in the Field of Remembrance, available for sale to its staff.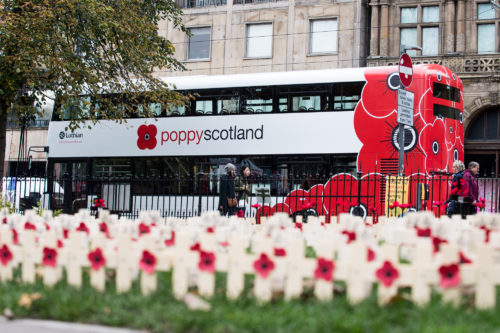 Gaynor Marshall, Lothian's Communication Director, said: "Edinburgh and the Lothians have a long-standing special relationship with our armed forces and Lothian has many former military personnel working across our business in a range of different roles.
"Poppyscotland's annual fundraising appeal is very close to our hearts and is important to our staff and to our customers, which is why we make a particular effort every year to recognise and honour the armed forces. We hope that our Poppy Bus will once again be popular with the residents and visitors of the City and prove to be a fitting tribute for those who have given service to our country."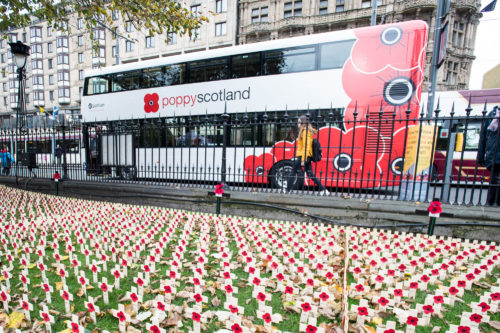 Photos © Wullie Marr Photography