On the concourse at Haymarket station yesterday there was a market place event where the Council, along with a wide variety of transport partners, were raising awareness of hate crime and how to deal with it.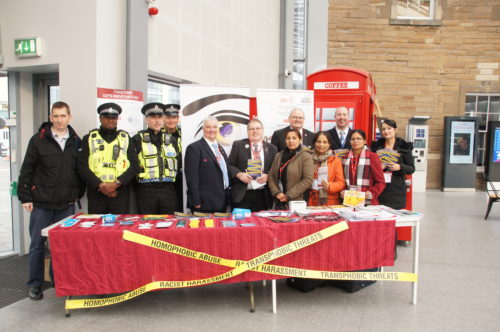 We spoke with Culture and Communities Vice-Convener and Chair of Edinburgh Community Safety Partnership, Councillor Ian Campbell, who told us : "We want to really advertise today the fact that people are listening. We are here with a partnership between Edinburgh City Council, Police Scotland, the British Transport Police, Edinburgh Trams, First Bus and ScotRail to say that we are going to listen to any reports, and take seriously any reports of violence or discrimination on the transport system.
Cllr Ian Campbell is Chair if the Community Safety Partnership which aims to #DriveHateOut pic.twitter.com/16ZzbRi8KO

— Edinburgh Reporter (@EdinReporter) October 30, 2017
Councillor Campbell continued : "The message is that we want to stamp this out, but we can't do it unless the public tell us. Unless crime is reported we can't deal with it. Many times we have hate crimes on the transport system but people don't report it because they don't think it will be taken seriously.
"We made a pledge that we will listen. We will and we will take it seriously and we will act."
When we asked Councillor Campbell how many crimes were already reported he was not able to tell us – for good reason. He continued : "We don't actually have figures. The reason is that our statistics show that the majority of people who experience some kind of hatred, some kind of misuse or being called something on the transport systems are not reporting it. So we don't really have statistics to say this is happening and we know it's not being reported."
The pilot survey carried out by hollaback earlier this summer had 168 returns.
95 responders stated people witnessed the event however less than 10% of those assisted the victim – highlighting the need to encourage people not to be bystanders.

Most incidents were verbal/low level persistent in nature – the impact of that included 85% of responders changing their behaviour due to being targeted in a sexual way

The lack of being able to identify the perpetrator should not prevent the reporting of the incident formally – currently 90% of victims speak to family or friends – we want them to report them to the service provider.
The council are bringing these partners together under the Community Safety Partnership which Councillor Campbell chairs. He concluded : "We are bringing these partners together and we have asked them to make that pledge and we are working with them to make sure that is kept."
Representatives from all the organisations were handing out leaflets, pens and credit card holders all emblazoned with each organisation's message. But in essence the message is the same from each. They all want to get rid of hate crime on public transport and if you witness or are the victim of a hate crime incident then they urge you to report it to the police.
Every year the Scottish Government and key stakeholders develop and deliver campaigns which aim to increase understanding of and how to report hate crime. This year it is being run under the banner Hate has no home in Scotland. The campaign will run until 26 November 2017.
The Edinburgh Community Safety Partnership has confirmed that it supports the #DriveHateOut campaign aimed at eradicating hate crime on all forms of transport in the city. Partners also outline their approach to responding to incidents promoting an understanding of hate crime, raising awareness of the charter and how to report unacceptable behaviours.
This joint campaign aims to give victims and witnesses more confidence to report hate incidents and highlight to everyone that those who victimise innocent members of the public simply because of their race, sexuality, religion, gender identity or disability will not be tolerated.