The first notes have been played in a project that will see an album recorded by musicians at opposite sides of the Atlantic Ocean – in real-time.
In what is believed to be a world first, an academic team from Edinburgh Napier has linked up with Berklee College of Music in Boston to record an album together at the same time – without either leaving their respective countries.
Utilising advanced audio-visual streaming technology called LOLA (low latency) and cloud-based features of recording software Pro Tools, the band has started the process of collaboratively recording an album, with musicians in Edinburgh, London, and Boston being brought together through the technology.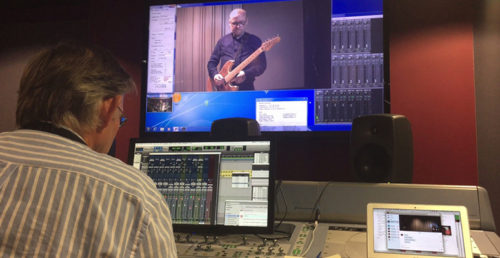 The band – which consists of Edinburgh Napier lecturer Dr Zack Moir on saxophone, Edinburgh Napier graduate Ewan Gibson on bass, Dr Gareth Dylan Smith, independent researcher and
musician, on drums, and Dr Joe Bennett, Vice President at Boston Conservatory at Berklee, on guitar – see each other by being projected onto large glass panels in both studios.
And despite being more than 3,000 miles away across the Atlantic Ocean, the time difference is a mere 40 milliseconds (one way), meaning that sound qualities are almost identical to the band being in the same room at the same time. This compares with an average sound lag of around 500 milliseconds for a regular Skype call.
The band has written a number of songs aimed at pushing the capabilities of LOLA, with many featuring intricate parts with a view to challenging the system.
The project is the latest in Edinburgh Napier's development and testing of LOLA technology, with the University using the system in the past to connect musicians across the UK and Europe for demonstrations and teaching. This is the first time it has been used for real-time transatlantic recording by the University, and is a world-first.
Dr Paul Ferguson, associate professor of audio engineering at Edinburgh Napier, said: "We began our LOLA research in 2012 and it is really exciting to have proved that it can used for long-distance recording, not just in universities but by the Music Industry in the future – the potential for global interactivity as well as carbon reduction blows my mind!"
Dr Zack Moir, lecturer in music at Edinburgh Napier, said: "It has been a privilege to be involved with this project and it's fantastic to play a role in taking what we can do with LOLA to the next step. Being part of group involved in real-time interactive music-making, and recording tracks with players on either side of the Atlantic Ocean is something we could never had imagined doing just a couple of years ago. The
potential of this system for use in the future for live gigs and performances across the world is incredibly exciting."
Dr Joe Bennett said: "We did some math in advance to figure out what the latency would be, and tried to guess the tempos and styles that would work for the session. Some of the tunes had a slow jazz swing, and others had a deliberately loose non-rhythmic feel. In the Boston studio we tried a simple mic'd up acoustic guitar and also a heavily processed electric guitar. The tunes that worked best, for me, were the ambient soundscapes, where we were listening as much for texture as rhythmic pulse. But we also managed some funky rhythmic patterns, and the tech team managed to set up the monitoring and streaming in such a way that the sax could play exactly in time with the guitar."
LOLA (Low Latency) is an audio-visual streaming system that allows musicians to play together remotely in real-time. It is currently used in universities and orchestral academies around the world for music education, rehearsal and performance.
LOLA relies on very fast, reliable networks – the national research and education networks that connect universities around the world – to operate effectively. Edinburgh Napier has a dedicated synchronous 10 Gb connection to the Janet network, the UK's national research and education network, provided by JISC.