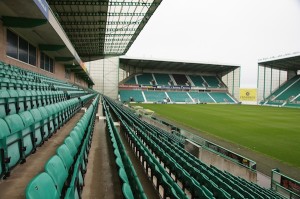 Utilita Energy has confirmed that it is significantly increasing its partnership with Hibs.
Utilita will continue as the club's Official Energy Partner for a second season – as well as becoming the club's Official Substitution Partner, the club's premier sponsor of this nature as well as being a Scottish football first.
This partnership extension will see the Hibs'  substitution board reinvented as an IHD complete with a Hibernian FC branded In Home Display cover – an exact replica of the FREE cover on offer to all Hibs fans who switch to Utilita.
Hibernian will also provide Utilita with a platform to further cement brand awareness with access to players, a wider presence both digitally and at Easter Road and offers & prizes for Hibs fans.
Every Hibs fan who switches to Utilita via the club will also receive either a £25 voucher to be redeemed at the club shop or a £25 voucher that can be redeemed against tickets, hospitality or club events AND an exclusive Hibernian FC branded In Home Display cover for their smart meter, which comes at no extra cost. They will also not have to pay a standing charge.
In addition, customers will have access to a host of other benefits including exclusive access to festivals and music tickets through its partnership with the world's leading entertainment promoter, Live Nation.
Utilita celebrated its 500,000th customer in April – up from 200,000 as recently as July 2015 – and last month reached a million supply points across the UK. It has also launched into the Business Energy sector – giving Britain's micro-businesses a better, fairer deal.
Laura Montgomery, Head of Sales & Sponsorship at Hibernian Football Club, said: "We are delighted that our official energy partner Utilita has decided to increase their support of the club by also becoming our new Substitution Sponsor.
"Utilita are an active, forward-thinking company, who continually come up with innovative ways to engage with our supporters, and we are looking forward to continuing to grow our partnership with them throughout the current season and beyond."
Jem Maidment, Head of Marketing & Communications, Utilita Energy, said: "There is a buzz about Easter Road after their promotion last season, and we are looking forward to drawing on that excitement to engage with Hibs fans. Like the club, Utilita is on the rise and we are always looking to provide new, innovative ways to promote our brand such as becoming the Official Substitution Partner for the Hibees."