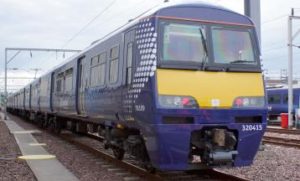 A police investigation is underway after a  group of four youths risked derailing a train by placing a ladder onto a railway line at Livingston North station on Monday 4th April.
The driver of an Edinburgh-bound train spotted the ladder on the tracks at around 9.20pm.
He was unable to stop the train and went straight over the ladder.
Constable Craig Wilson of British Transport Police said: "I am keen to trace the reckless youths who thought it was clever to place this ladder on the tracks.
"It might have seemed like fun but the consequences could have been catastrophic.
"Although only superficial damage was caused to the tracks, the ladder could have easily been propelled onto the platform and struck a member of the public. 
"Not to mention the fact that this train could have been derailed.
"From speaking with witnesses and viewing available CCTV, it appears four youths were seen to tether this ladder to the tracks. They stuck around to witness their handy work and then quickly left.
"If you have any information on who is responsible then I would urge you to get in touch. Text us their names or call Crimestoppers anonymously on 0800 555 111."