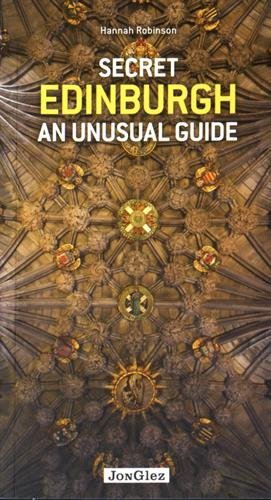 Overflowing with the hustle and bustle of tourists, many will be surprised to discover that Edinburgh is also peppered with hidden gems that even the locals don't always know about.
Did you know for example that Edinburgh has one of the most impressive collections of historic swimming pools and many are still in use today?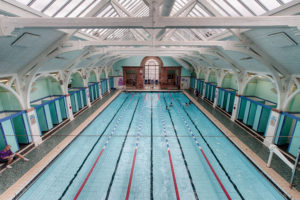 Many of the UK's heritage baths are in a 'sad' state. There are 116 listed baths buildings, of which only 52 are operational or in the process of being refurbished. Yet in Edinburgh, there are six fully-functional historic Victorian pools, with five of them being run by Edinburgh Leisure, who also has the A-listed Royal Commonwealth Pool. The sixth is a private club – Drumsheugh Baths.
Edinburgh Leisure's pools can be found at Dalry, Glenogle in Stockbridge, Leith, Portobello Swim Centre and Warrender, home to the Warrender Baths Club, which is said to be the oldest, most famous and successful swimming club in Scotland, with the likes of Olympic Gold medalist David Wilkie having trained there.
Swimming clubs and bath houses were established from the 1850s following the 1846 Act to Encourage the Establishment of Public Baths and Wash Houses.
Many of the city's Victorian swimming pools were part of a much wider scheme to build public baths to promote cleanliness and hygiene among the working classes, who did not have routine access at the time to sanitation.
The act encouraged local authorities to open up baths in areas of dense population and British cities led the way in building the first public baths since Roman times.
Whilst Edinburgh Leisure has kept the character of the 'baths', a considerable amount of money has been spent on them over the years, modernising them to meet the demands of the modern fitness customer, whilst keeping their charm, including the natural light, original architecture and quirky changing areas.
Each of the pools has their own unique charm and history. Leith Victoria Swim Centre for example has two 'hot baths', located just off reception, which can be used by members of the public for a small fee of £1.75. Perfect for those living in the nearby modern flats, which may only have showers due to space saving or even the old tenement flats that may still not have a bath.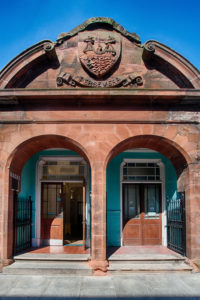 Portobello, or 'Porty' is also home to Edinburgh's only publicly available authentic Turkish Bath and aerotone, the forerunner to the modern Jacuzzi. With a choice of three hot rooms, a steam room, relaxation area and cold plunge pool, the Turkish Baths are the ultimate relaxation therapy. Like Leith, they also have two 'hot baths' available for hire.
The aerotone, one of only two in Scotland, can be rented by the hour. It was recently featured in a new book 'Secret Edinburgh – An Unusual Guide' by Hannah Robinson.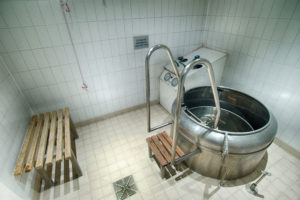 A fascinating book, far from the tourist traps and the crowded landmarks, you may have thought Edinburgh had no more to reveal, but the city still keeps many treasures hidden away in the most unexpected of places. It's an indispensable guide for those who thought they knew Edinburgh well, or who would like to explore the curiosities of this most secretive of cities.
Discover hidden gardens and clandestine art that even the neighbours overlook, visit the strangest of museums, get water-boarded in a prototype Jacuzzi and traumatised by Rabelaisian rafters, decrypt mysterious Masonic markings, step inside an Icelandic lava grotto, travel to the Wild West of Morningside, learn the secrets of Mrs Coade's stone, sniff out the dogs more dazzling than Greyfriars Bobbie, or track down traces of Edinburgh's Great Exhibition.
'Secret Edinburgh – An Unusual Guide' by Hannah Robinson – ISBN: 978-2-36195-148-1 – Price:  £12.99