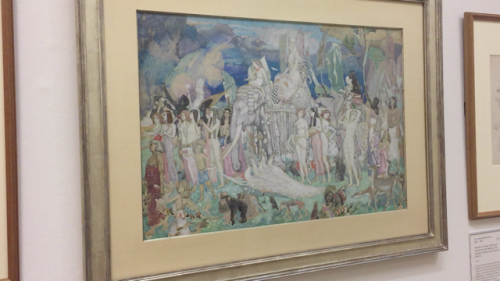 Some rarely seen drawings will go on display at the National Galleries of Scotland from this Saturday 24 September 2016.
Spanning five centuries, Drawing Attention will demonstrate the extraordinary range and depth of the collection by highlighting some of its more quirky and lesser-known treasures.
From an elegant early Renaissance drawing of Christ and St Peter by Gentile da Fabriano to captivating studies of lions by Rosa Bonheur (1822-99), one the finest animal painters of the nineteenth century, Drawing Attention will bring together some beautiful examples by wide range of master draughtsmen and women.
Comprising some 65 works, the selection mixes familiar names with some less well-known, but fascinating figures. The exhibition includes a number of recent acquisitions, on display for the first time, and many of the works featured have rarely if ever been shown before.
We spoke to curator Charlotte Topsfield about the two rooms on floor 2 which are now home to an eclectic selection of drawings:
NeW exhibition of drawings on paper spanning 500 years opening on Saturday 24 September @NatGalleriesSco pic.twitter.com/2fYOPsbyTQ

— Edinburgh Reporter (@EdinReporter) September 22, 2016
DRAWING ATTENTION:
RARE WORKS ON PAPER 1400–1900
24 September 2016 – 3 January 2017
Scottish National Gallery
The Mound, Edinburgh, EH2 2EL
Admission FREE | 0131 624 6200
#DrawingAttention