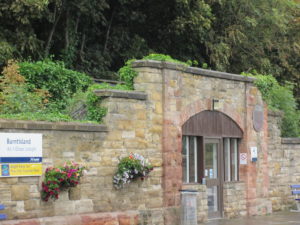 Where do you think of when you want a day out of the city? A trip to East Lothian maybe? Or a walk in the Pentlands? Both are excellent choices – but last weekend I went to Burntisland.
The Fife coast is somewhere we tend to speed past on our way north – lovely views from the East Coast line, but that's about it. Take the local train to Burntisland instead, and you will be rewarded with all sorts of hidden treasures (starting with the beautifully kept station) There's a Blue Flag beach, a fascinating museum, at least two great cafés, and – if you hurry – one of the most interesting exhibitions I have seen for some time.
So – since it's only on for another few days – let's start with the exhibition. The Burntisland Heritage Trust is volunteer-run, and a nicer bunch of volunteers you couldn't hope to meet. Every year the Trust mounts an exhibition of local interest, and in 2016 it's chosen 'Our Natural Heritage' as its theme. The area teems with wildlife, flora and fauna – from seals and dolphins to butterflies, and birds. Did you know that crows and magpies 'mob' poor old birds of prey like sparrowhawks? Have you ever seen a shanny fish?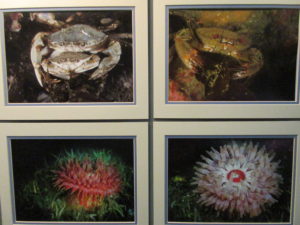 The foreshore from Burntisland to Seafield is a Site of Specific Scientific Interest, and photographer Matt Barnes' Foreshore Safari collection shows us stunning images of crabs, shells and sea squids, while Gavin Verdun Anderson's series Under the Waves includes a remarkable photo Scorpion Fish with Brittle Starfish. There are also some lovely shots of grey seal pups. Even more impressive is the video of Gavin swimming underwater with the seals, one of whom tried to play with Gavin's flippers.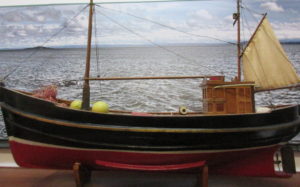 Bruce Maitland focuses on birds – his pictures of herons, skylarks, buzzards and kestrels are superb, as are Joyce Murdoch's peacock butterflies and buff-tailed bumblebees. Alan Hutchison has taken some excellent landscape and panorama shots, and photographs of the Low Road to Aberdour showing this ancient path in autumn, with the trees at their best, made me keen to return for a walk. The exhibition also includes five model boats – a clipper, three fishing boats and a yacht – made by the late George Aitken, a Burntisland man.
Inchkeith Island in the Firth of Forth is just one mile long, but in World War II it was home to over one hundred soldiers, sent there as a defence against attacks from shipping. It's believed the island may have been inhabited (on and off…) for almost 1,800 years; in the 15th century it was used to quarantine syphilis sufferers, and later, people infected with the plague. James IV used it for a bizarre linguistic experiment, James Boswell visited it, it's been garrisoned, farmed – and finally abandoned. Despite being the second largest island in the Forth, Inchkeith's wildlife has so far been little studied. Ron Morns has taken photographs of the island as it is now – a sanctuary for seabirds, including cormorants, guillemots, kittiwakes and fulmars. Image: Forth Seabird Group, whose website has lots of interesting information.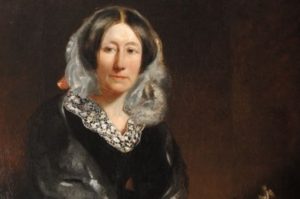 Somerville College in Oxford would not seem to have much connection with this small coastal town – but it is named after Mary Somerville, 'the most remarkable woman of her generation', who grew up in Burntisland. Mary was the daughter of a Vice-Admiral who came back from the sea to find her 'a savage' with an atrocious accent. He sent her to school in Musselburgh, which she hated, returning to Burntisland after a year 'like a wild animal escaped out of a cage.' Mary had lessons from her uncle and a tutor and learned some art in Edinburgh, but was largely self-taught in secret after her parents forbade further studying. Although she eventually excelled in mathematics and astronomy, she was also interested in tides, marine life and plants, collecting rocks, fossils and shells throughout her life. A plaque over the door of 30 Somerville Square commemorates her – but her face will soon be seen throughout the country, on the Royal Bank of Scotland's new polymer notes.
The Heritage Trust has made great efforts to involve everyone in this lovely exhibition. Local artist Leo du Feu has been working with children at the primary school, who have produced some fabulous work – colourful bird masks, pictures of garden birds and some great collages; I especially liked Taylor Houston's fox and Rosa McDonald's beautiful pencil drawing of the bug hotel in the school's wildlife garden.
The exhibition closes on 26th August so do try to see it this week. It's open 1-4pm on Wednesday and 11am-4pm on Thursday, Friday and Saturday. Admission is free (donations appreciated) and you will receive a warm welcome. The Trust is also running a free guided historical walk around its 'inner heritage trail' on Wednesday 23rd August at 2pm and another one around its 'outer heritage trail' at 1.30pm on Friday 25th. More details here.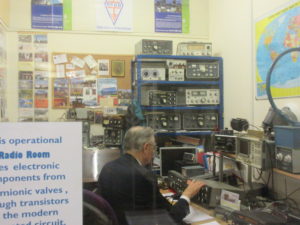 Just across the road more friendly volunteers await you – this time at the Museum of Communication. This excellent collection is great fun for all ages, with plenty of hands-on things to press, ring or wear. The museum specialises in communications technology, from the pre-electric optical telegraph used in the Napoleonic Wars to the latest state-of-the-art webcams and cameras for mobile phones, currently featured in the Guinness Book of World Records. This summer's exhibition is Wartime Advances, Peacetime Applications; it focuses on 1916 and it's crammed full of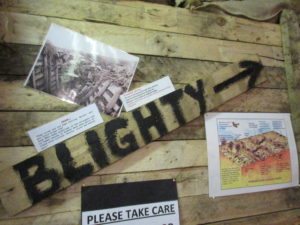 fascinating stuff, including a life-sized World War One trench, a ward in a field hospital, displays on the battles of Verdun, the Somme and Jutland and air raids in Edinburgh (Marchmont was bombed because the Zeppelins couldn't find Rosyth on tourist maps!) You can have a go at tapping out Morse Code or signalling with semaphore flags, see some early (and very big) computers, and find out about what went on at Bletchley Park, and at the 'Y' Service stations of Beaumanor and Forest Moor. Admission is free (again donations are much appreciated) and the museum is open 11am-4pm on Wednesdays and Saturdays till the end of September (re-opens next April).
If all that fun has made you hungry, the town has several eating establishments. We had a delicious brunch (Eggs Benedict anyone? maple syrup stacks?) at the popular and family-friendly Potter About café, and we've also heard good things about Fair Trade deli and café Food For Thought. Another great find is Macaulay's Fruit and Veg shop – at a time when it's hard to find a good greengrocer's anywhere, this lovely shop also sells free range eggs and local honey. Burntisland even has its own second-hand and antiquarian bookshop, Hanselled Books at 19 Kirkgate.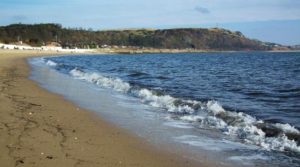 And so to the beach… except unfortunately the one day we chose to visit was so wet and windy that we didn't actually manage a walk on the sands. Here's a picture of what they're supposed to look like – the beach gets 4.5 stars on Trip Advisor, with lots of people rating it 'excellent' and also praising the adjacent park – so I'll definitely be down there next time.
The weather also prevented an ascent of the Binn, the volcanic plug hill (sister to Arthur's Seat, Berwick Law and Largo Law) behind the town – again something for another day (image © Keddie Law.) The Heritage Trust has a very useful leaflet with trails around the town and information about its ecology, geology and industrial heritage.
So there you are – what better way to take a day out from the city's festival frenzy? You can take the train to Burntisland from Waverley or Haymarket Stations – journey time about 30 minutes, including a scenic crossing of the Forth Rail Bridge (which means you can all look out of the window.)
With thanks to Leo du Feu, who put us on the scent….
Burntisland Heritage Centre, 4 Kirkgate, Burntisland
Museum of Communication, 131 High Street, Burntisland
Potter About Café, 253a High Street, Burntisland
Food For Thought Café, 267 High Street, Burntisland
Macauley's Fruit and Veg, 172 High Street, Burntisland
Hanselled Books, 19 Kirkgate, Burntisland