Gorgie City Farm needs your help to raise £100,000 to ensure the farm's future in a climate of less funding from grant providers.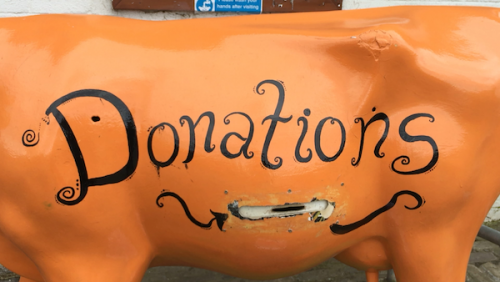 Rising costs and a reduction in external funding grants mean that the City Farm is now asking its supporters to help keep the Farm open. We met John Teasdale Vice-Chairman of the Board which runs the farm to find out about the fundraising efforts.
He said: "We have not completely run out of money. The farm is not in immediate danger of closing, but a couple of funders that we were hoping to get grants from have, for good reason, not given us any money.
"We shut the cafe earlier this year as it was not making money. It was a great facility but as a charity we can't afford to run something if it is not making money for us.
"We have launched a public appeal and the response has been absolutely outstanding. We are seeking £100,000 and in the first week we already got half of our target. The money will enable us to keep the farm running. It costs us £1,000 a day to run this place.
"We are a free entry attraction so we are totally reliant on donations from visitors who come here and from grants.
"We get a very significant grant from the City of Edinburgh Council which is about a third of our funding and is very much appreciated. The rest comes from a variety of trusts that are supportive of the type of work we do here.
"We would very much like to redevelop some of our facilities, for example by putting up some new chicken runs and build a new pet boarding facility."
Despite cost cutting measures, including closing the loss-making café, and the award of a three-year grant from The City of Edinburgh Council, the charity urgently needs public donations to continue delivering leading programmes for young and vulnerable people from across the city.
Having supported the local community for 38 years, Gorgie City Farm works with over 100 volunteers every week through training, work experience, social opportunities and personal support. The majority of volunteers are people with support needs, with long waiting lists to join. The Farm also supports young teenagers from disadvantaged backgrounds, providing them with support and practical education they would not find elsewhere.
Edinburgh Council, Councillors Donald Wilson (Lord Provost), Cathy Fullerton, Eric Milligan, Gavin Corbett and Denis Dixon are backing this urgent appeal.
Green councillor Gavin Corbett said
"I'm giving my full backing to this appeal because I know how big a part Gorgie Farm plays in the lives of children throughout Edinburgh -and particularly in the immediate area. My own kids have spent countless hours here and my oldest son has been a volunteer young farmer, from mucking out pigs to helping with toddlers' parties.
"The vision of Gorgie Farm when it started – to bring children closer to the day to day workings of a farm in the heart of the city – is just as relevant today as when it started. So I'm confident that everyone who loves the farm and wants to see it prosper will give generously."
George Elles, Chair of Gorgie City Farm, said: "If every family who visited Gorgie City Farm in the past two years gave just £1, the Farm would be saved.
"So many people have special memories of the sights, sounds and smells of rural life which they've experienced in the heart of Scotland's capital city. But as a free visitor attraction and a charity we need you to donate today to save your Farm."
Lord Provost Donald Wilson said: "The Gorgie City Farm is a much loved and valued local group.  What it does is unique in the city and is something we cannot afford to lose."
To donate to save Gorgie City Farm, please text "FARM44 £5" to 70070, visit www.justgiving.com/gorgiecityfarmassociation or send a cheque to GORGIE CITY FARM, 51 Gorgie Road, Edinburgh, EH11 2LA.