First there was the Grove community garden and now there will be a community-use WikiHouse which will be constructed at Fountainbridge this weekend. It will be the first of its kind in the UK.
The innovative and sustainable community project is located at India Quay, a brownfield site in Edinburgh's Fountainbridge which in the future will become a vibrant new canalside development being led by developer EDI.
Led by the Fountainbridge Canalside Initiative (FCI), and supported by EDI, the WikiHouse will be a new community meeting space for the 'meanwhile projects'  based at Fountainbridge. These are projects which use the land until it is needed by the owner-developer.
The building of the WikiHouse will take place from 9-11 October. Members of the public are welcome to come along to the site with most activity expected on Saturday 10am-4pm.
The community WikiHouse will be constructed by teams of local volunteers and supporters of the project.  Over the weekend, the WikiHouse will be assembled using the WikiHouse system.  WikiHouse is an international initiative enabling people to build their own housing with only basic tools and skills required.  It uses sections of pre-cut wood which slot together perfectly to create floors, walls and ceilings and is more akin to a jigsaw puzzle than a traditional building project.
Denise Havard, Community Development Manager at EDI, said: "Together with the Fountainbridge Canalside Initiative we have been actively supporting and enabling the meanwhile projects to take place. Supporting these community projects is a large part of our plans at India Quay and our other sites across Edinburgh."
One of the project organisers, architect Akiko Kobayashi said: "We're really looking forward to the WikiHouse being assembled this weekend with the help of lots of people. As a member of FCI, the project has been an incredible opportunity for me to be able to contribute to the site's Meanwhile Uses  and the local community's longer term aspirations for the area."
Councillor Frank Ross, Economy Convener for the City of Edinburgh Council, said: "The WikiHouse is an innovative idea and it's positive to see the land at India Quay being used in this way. Keeping the space active maximises the potential of the land before the EDI Group's proposed development takes place."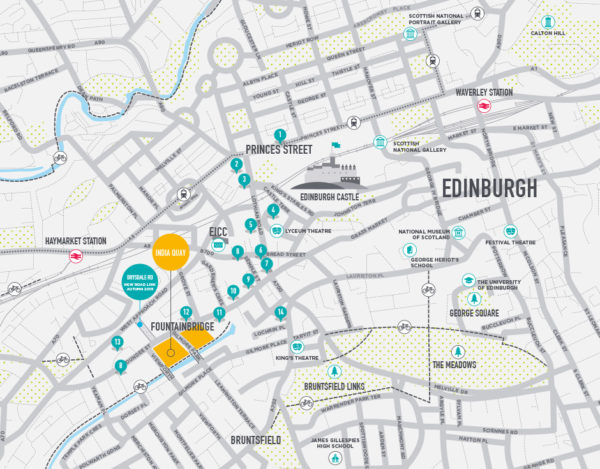 India Quay at Fountainbridge is a vibrant new canalside development from EDI, with community at its heart. Before construction starts, the brownfield site is being used as a space for various temporary community projects supported by EDI. (Map courtesy of India Quay)
The Fountainbridge Canalside Initiative is working hard to enhance the strong community spirit that exists in the area and will be carried forward to the new India Quay development. The WikiHouse will provide a place for the Fountainbridge Canalside Initiative to hold  workshops and classes, conversations and gatherings.