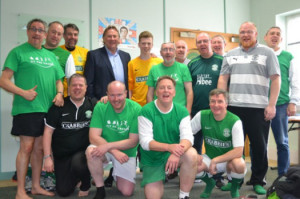 Participants in the Hibernian Football Fans in Training and Healthy Hibees fitness programmes are aiming to complete a half marathon around the pitch at Easter Road Stadium this Saturday, 24 October, raising funds in the process to support future programmes for all ages, through the purchase of a mobile pitch.
The pitch will allow  the Hibernian Community Foundation to offer matchday activities for various groups, football coaching sessions throughout the week, and enhance the opportunities for our fitness programmes participants – giving everyone the chance to be Healthy Hibees!
The participants, many of whom were unfit, unhealthy and needed some guidance and support to get themselves back on track, have all been involved with one of the health and wellbeing groups run by the Hibernian Community Foundation over the past five years. So now these 'graduates' are aiming to challenge themselves, run a distance outside their comfort zone and complete as many laps of the pitch as they can.
Last year the fans  exceeded all expectations by running an incredible 1326 laps ( 12.75 marathons), around the Easter Road ahead of a game against Partick Thistle and afterwards former Hibs and Scotland legend Alan Rough joined them in the Community Foundation offices in the South Stand.
Roughie said: "As someone who knows what it's like to run round the park at Easter Road, I understand what a fantastic achievement this has been. For anyone to manage 104 laps is incredible and for everyone to run as many as they did is amazing. I would like to congratulate everyone involved."
To sponsor the fit fans squad, please visit https://www.justgiving.com/HealthyHibees2015