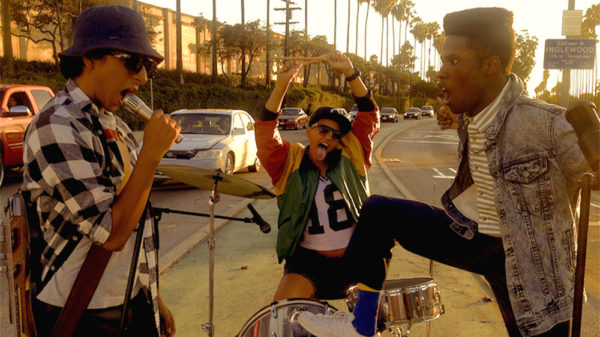 Ahh, the teen comedy. An over-saturated movie genre with every one trying its hardest to become the best. You often find that term 'teen cult classic' thrown around a little frivolously. In actual fact, we seldom see something that deserves that prestigious title. Perhaps 2007's Superbad was the last one to reach these heady heights, and even then it took a shed-load of strong reviews and a huge teen following for it to reach this success. Thus, the strong praise that Dope has received from its extensive festival run has become so precious. A passionate, finely crafted escapade set in the Los Angeles suburbs, it takes a place associated with crime-fueled drug gangs and injects a huge amount of character into the people that walk its streets.
For Michael, day to day life in Inglewood, California (known affectionately as The Bottoms) consists of getting shining grades, dressing like his eighties hip-hop heroes and avoiding getting his Jordan's stolen by the school bullies. But as his interview for Harvard University comes closer, he crosses paths with Dom, a local dope dealer who embroils him in a cat and mouse chase across the city involving a serious amount of gear.
The leading trio of Dope manage to be both the source of its exuberance and rare, sweet somber moments. Shameik Moore takes the helm of this non-stop movie and operates it with such enjoyment and control that its surprising to hear this is his first feature, never mind lead role. Similarly, young Kiersey Clemons shines as the friend group's feminine component. Her position as the group's headstrong gay figure manages to counteract the perception of the other women as simply alluring eye candy. However, it's difficult to criticise this fully. These women serve some purpose as plot influences, indicating that Famuyiwa has a grasp of both filmmaking ethics and the hormone driven, teenage boy's mind.
The man who feels like an influence to the film's content itself is A$AP Rocky. The rapper does some damn good work as the leader of a local gang dealing the eponymous drug. His hip-hop bred swagger works so intrinsically with his character that there's very little to differentiate the man and his role. It's hard to fault Dope's visceral brilliance too. Blood orange sunsets and almost entirely achromatic nightclub scenes are gifted with a journey of hip-hop music through the ages. It's damn good looking and a lot of fun.
Its fleshy sensuality drives you deep into the head of its protagonist. Serving as the distractions to Malcolm's main goal (getting rid of near enough $100k worth of cocaine), it's a significant part of a fast paced, fizzing world that these teenagers survive in. Most teen comedies try and serve their purpose by focusing on its sexy subtext, whilst admirably Dope sits somewhere in between. Add in the film's slightly dissonant closing monologue tackling race issues with an indelibly strong hand, and we have the kind of teen comedy that throws itself leaps and bounds ahead of a lot of its predecessors.
Slick, well dressed and surprisingly evocative for a teen comedy, Dope has DNA that almost certainly points to a future cult classic.
★★★★★
Dope has its UK premiere at the Edinburgh International Film Festival 2015. For ticketing information, head to the EIFF website