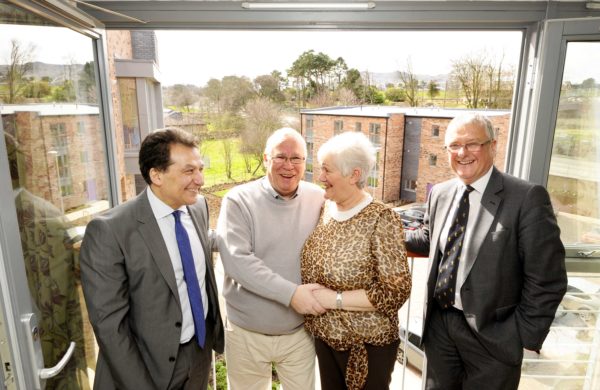 A £5.8m Merchants' Court Liberton housing development which will boost independence and quality of life for Edinburgh's frail and elderly will welcome new tenants later this month.
The development of forty eight flats provides rented accommodation for a range of elderly tenants, including the disabled.  Merchants' Court has been built in two phases with the first phase of 32 flats completed in May 2014 and officially opened by HRH The Princess Royal in September 2014.  The second phase of a further block of 16 flats was completed in March 2015.
Eileen and Brian Stemp, two of the development's phase one residents, are pictured in their new flat with Ian Watson, Master of The Merchant Company of Edinburgh's Endowments Trust  – one of the project's main backers (left) and Mike Afshar (right), chairman of The Merchant Company's Frail and Elderly Committee.