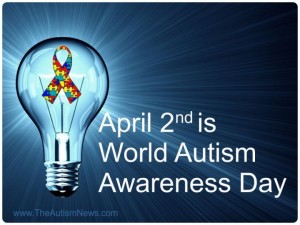 Edinburgh Reads: The Curious Incident Giant Book Group Event. To mark World Autism Day a panel of speakers, including Cerin Richardson (Festival Theatre) and Matthew Day (Autism Initiatives), will discuss some of the challenges faced by people living with autism. To enjoy this event fully you are advised to read The Curious Incident of the Dog in the Night-time beforehand, so that  you can participate in small group conversations prior to the panel discussion; copies of the book should be available in all city libraries. There will be a draw for two pairs of tickets to a performance of the stage version of the book, kindly donated by The Festival Theatre, and Cerin will be sharing some of what is involved in translating 'the page to the stage'. Individuals and books groups all very welcome.  6.30-8pm, Central Library, George IV Bridge. Free but please book via eventbrite here.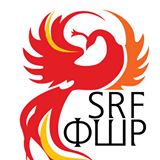 Scotland-Russia Forum: sparkling Russian/English conversation over tea and cakes – no charge apart from any food or drinks you may wish to buy. No booking needed – just turn up, you will be warmly welcomed. 11am, Summerhall Cafe, Summerhall, 1 Summerhall.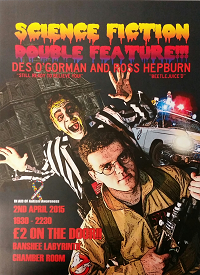 World Autism Awareness Day Charity Fundraiser: Science Fiction Double Feature! A night of paranormal stand-up comedy in 'the most haunted pub in Edinburgh', featuring Des O'Gorman and Ross Hepburn – two quality shows back-to-back, each comedian 'embracing the films of nostalgia, inspiration and devotion'. 7.30-10.30pm, Banshee Labyrinth Chamber Room, 29-35 Niddry Street. £2 on the door: all proceeds to Autism Awareness. For more information please contact Autism Initiatives' Community Fundraiser and PR Officer: Holly.Child@aiscotland.org.uk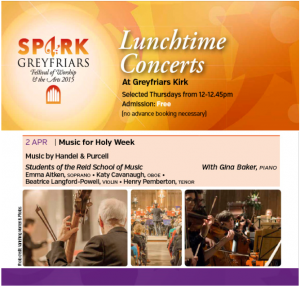 Lunchtime Concert: Music for Holy Week. Music by Handel and Purcell, performed by students from the University of Edinburgh's Reid School of Music, with Emma Aitken (soprano), Katy Cavanaugh (oboe), Beatrice Langford-Powell (violin) and Henry Pemberton (tenor), accompanied by Gina Baker (piano). 12 noon-12.45pm, Greyfriars Kirk, Greyfriars Place. Free. A concert as part of the Spark Greyfriars Festival of Worship and the Arts 2015.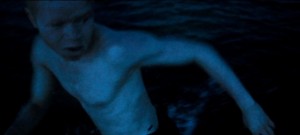 Africa in Motion Film Festival Special Screening: White Shadow (15). Not only an ancient tradition but still a modern-day practice, the underground trade in albino body parts still exists in Tanzania, a country with one of the highest percentages of albinism in the world. In Noaz Deshe's film Alias, an albino youth on the verge of adolescence, must learn to navigate a world in which he is not just an outsider, but actual prey. 'Despite the pervasive, often harrowing amorality of this world, it's one not entirely bereft of hope'. In Swahili with English subtitles. The screening will be introduced by Justine Atkinson, Director of Aya Distribution. 8.35pm, Filmhouse, Lothian Road. Tickets can be booked online here or by calling the Box Office on 0131 228 2688.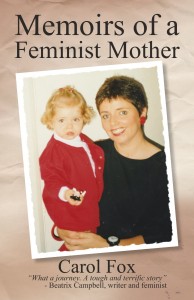 Memoirs of a Feminist Mother: Carol Fox, the lawyer known in Scotland for successfully fighting mass equal pay cases for low paid women, launches her book, a memoir of her positive decision to become a single parent by choice. Carol obtained fertility treatment in London in the early 1990s and her daughter was born in 1992, following battles against judgemental attitudes that seem almost vindictive to most of us now.  Carol's story has attracted media coverage, sparking debates on motherhood and the right to be a single parent in the UK; it will be of interest to a wide audience of women, young and old, mothers and non-mothers, as it records changing social attitudes over the past 25 years. 6.30pm, Word Power Books, West Nicolson Street. Free: all welcome – donations also very welcome!
Live Music Now: Grainne Brady and Ryan Murphy. Grainne Brady and Ryan Murphy are a duo from Ireland playing traditional Irish music: their programme is entitled The Irish During The Great War, and mixes regular favourites with tunes reminiscent of the war and its aftermath, such as The Homerule and Easter Rising. 6-6.30pm, Scottish National Portrait Gallery, 1 Queen Street. Free: no booking required.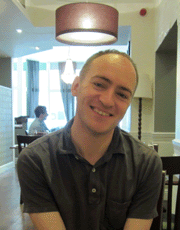 Edinburgh College of Art Thursday Research Seminar Series: Derek Jarman Gets Medieval. Chaired by Dr Robert Mills (UCL), whose recent work has looked at Jarman's engagements with medieval art and literature, with a particular focus on the artist's conceptions of time and history. The seminar will be followed by drinks in the Minto House Common Room. 5.15pm, Lecture Room 1, Minto House, University of Edinburgh, Chambers Street. All welcome: free.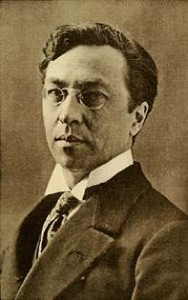 Books in Focus: Kandinsky's Klange. The 'Books in Focus' series focuses on artists' books held in the special collections of the Scottish National Gallery of Modern Art. This session will look at Wasilly Kandinsky's book Klange, published in Munich in 1913. Klange means 'sounds'; the book contains a series of woodcuts that trace Kandinsky's journey into abstraction, together with writings and poems exploring his ideas about art. 11.30am-12.30pm, Reading Room, Scottish Gallery of Modern Art TWO, Belford Road. Free but places are limited and booking is essential: please email gmainfo@nationalgalleries.org or call 0131 624 6268.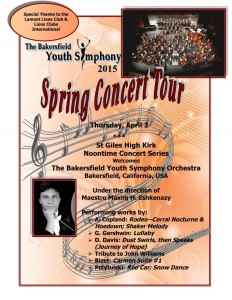 Lunchtime Concert: Bakersfield Youth Symphony Orchestra, Bakersfield, California, USA, with director Maxim H Eshkenazy. 12.15pm, St Giles' Cathedral, High Street. Free.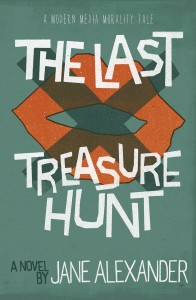 The Last Treasure Hunt: Edinburgh author Jane Alexander launches her debut novel. At the age of thirty, Campbell Johnstone considers himself a failure; when he tries to rekindle his relationship with former friend and rapidly rising Hollywood star Eve Sandler, a single shocking night changes everything in ways he could never have predicted. When the dust settles, Campbell's life is transformed – but at what cost? The Last Treasure Hunt examines our obsession with fame and celebrity – 'a modern media morality tale with bite'. The evening will be chaired by Peggy Hughes. 7-9pm, St Stephen Centre, St Stephen Street, Stockbridge, Free tickets may be booked via eventbrite here.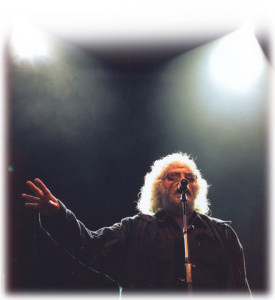 Scottish Poetry Library Translation Workshop: Gaelic Poetry with Aonghas MacNeacail. The Gaelic poet, songwriter, scriptwriter, broadcaster, translator, journalist and librettist will share two or three of his own poems, with literal translations. With Aonghas's help, attendees will (individually or in pairs) then create English translations from the literal versions. The translations and the process of translating will then be shared and discussed. There is no need to able to speak or read Gaelic, or to have translated before, to attend the workshop, although those with experience are welcome. 6-8pm, The Saltire Society, 9 Fountain Close. Tickets cost £5/£4 and may be booked via eventbrite here. For more information please contact jennifer.williams@spl.org.uk.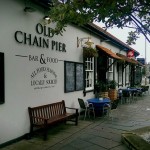 The GTs Live @ The OCP: an evening of fantastic foot-stomping music! 9pm, Old Chain Pier, Trinity Crescent.

Pat Kane: Culture, Sustainability and Political Change in Scotland. An evening with The Common Weal board member, musician and writer. 7pm for 7.30pm, Area C Coffee House, 239-241 Leith Walk. Hosted by The Common Weal Edinburgh North & Leith. Please note venue is cash only. BYOB (corkage applies).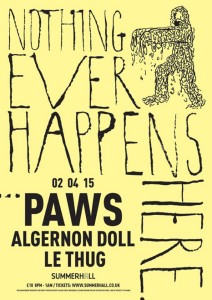 Nothing Ever Happens Here Presents Paws + Algernon Dog + Le Thug. For over 18s only. 8pm-1am, Dissection Room, Summerhall, 1 Summerhall. Tickets cost £10 and may be purchased online here or by calling the Box Office on 0131 560 1581.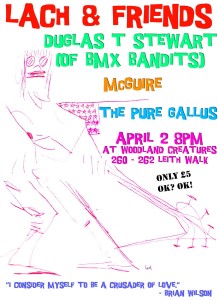 Lach & Friends: Duglas T Stewart (BMX Bandits), McGuire and The Pure Gallus. 8pm, Woodland Creatures, 260-262 Leith Walk. £5 on the door.