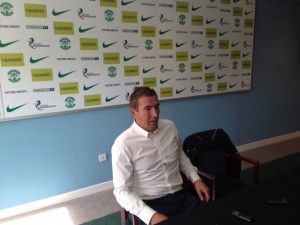 Hibs' Head Coach Alan Stubbs has praised Hearts for their performances so far this season which has seen them move to 15 points clear at the top of the Championship, but he is confident that his players can rise to the challenge and if they perform to their capability they can take all three points from Tynecastle.
Last week's thrashing of Rangers has galvanised the supporters and whilst most accept that Hibs are too far behind to overtake their rivals, there is now an air of confdence surrounding the club with regard to potential play off opponents.
Speaking to Hibs TV, Stubbs said: "Records are there to be broken – that has always been the case. If we play to the level that we know we can do then we will cause Hearts problems.
"My overall evaluation of Hearts is that they have been excellent from the beginning of the season until now.
"To do what they've done – they deserve credit for that. But the most important thing is that we keep focusing on ourselves.
"If we can perform to a level that we've shown then I feel we are as good as anyone on our day – the Rangers game was proof of that.
"We will show Hearts respect, but we won't fear them."
"As you would expect, the squad is in fine fettle at this moment in time.
"The squad are buoyant and very confident and the nice thing for me is that I have to temper that enthusiasm.
"The squad are in a really good place – they're at the top of their game and doing everything that's expected of them.
"So from that point of view everything is good."